"From the Bay, For the Bay" dine out Oct 2-9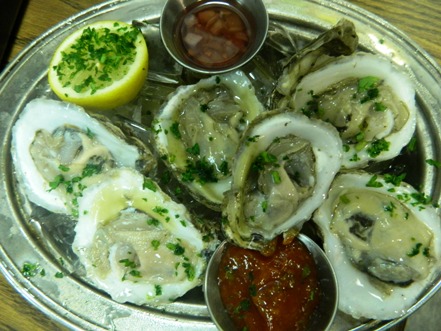 Grillfish is partnering with The Maryland Department of Natural Resources (DNR), along with many restaurants in Maryland, Virginia, Delaware, Washington D.C. and Pennsylvania, for a week-long celebration of Maryland's seafood by participating in the "From the Bay, For the Bay" Dine Out from October 2 through 9, 2011.
During the week of October 2-9, 2011, Grillfish's menu will include unique presentations of fresh Maryland seafood. One dollar from every Maryland seafood dinner sold during the week will be donated to the Oyster Recovery Partnership, a non-profit organization working to rebuild the Chesapeake Bay's native oyster population. The funds generated from this program will help support the shell recycling program in which Grillfish participates, as well as physically produce and plant baby oysters back into the bay.
Grillfish's menu will feature By the Bay selections such as local rockfish and James River oysters.
Over the last decade, the Oyster Recovery Partnership has replanted hundreds of millions of oysters in the bay. Oysters are a critical species to the bay's long term recovery. A healthy oyster reef not only filters the bay's waters, but also provides habitat for other marine life such as blue crabs and striped bass.
Grillfish is located at 1200 New Hampshire Avenue, NW. Tel: 202.331.7310