Barcelona, Girona, Costa Brava, and the Beauty of Catalonia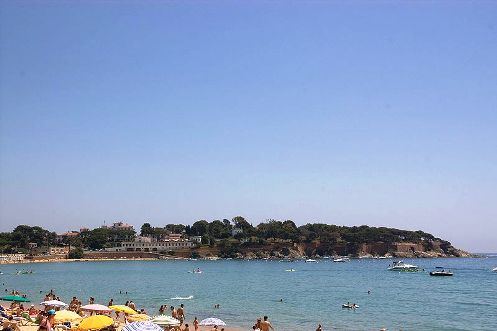 After a challenging year, my husband and I booked a holiday (with accommodations selected by our personal 'dean of travel,' Martin Rapp) that we hoped would offer natural beauty and sunshine, coupled with a sophisticated city.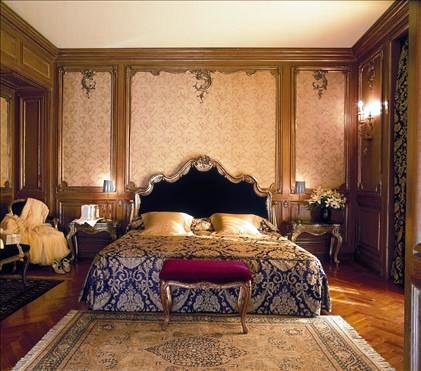 We took off on Iberia Airlines for S'Agaró and arrived at the über luxurious Hostal de la Gavina overlooking two of the most beautiful beaches of the Costa Brava. Since the early 1980s, this Catalan-style hotel has attracted the rich and glamorous, including King Juan Carlos, Elizabeth Taylor and a host of celebrities from northern Europe. Known for "at your service," the hotel did not disappoint. We were enchanted with our spacious suite with marble and wooden floors, hand-carved ebony and parquetry inlaid furniture, Murano crystal lamps and views of the Mediterranean from our balcony.
As dinner didn't start until 9:00 pm, we immediately began to relax and realize that life here was all about casual and sensuous. Before leaving for Spain, I had the incredible luck of meeting Nuria Clusella and Mariona Anglès who put together the most amazing itinerary for us, starting with a table at the 3 star Michelin-rated El Celler De Can Roca, currently rated No. 2 on the list of World's 50 Greatest Restaurants. As you can imagine, without Nuria and Mariona, we would have had to wait six months or more.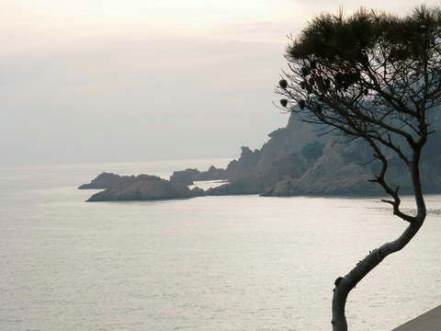 The passion for cooking and hospitality shared by the three Roca brothers is palpable, but surprisingly, the food is playful rather than serious – caramelized olives are brought to the table on bonsai trees – and Catalan ingredients are given centre-stage billing on the menu. With clever techniques, simple flavour combinations complement each other; all designed to titillate the palate and evoke a memory rather than confuse the mind. It's clever stuff – and thankfully, it is also utterly delicious. We left (happy and full) with a signed menu from the world-renowned chef.
Next on the tour was a private tour of the Jewish History Museum and the National Archives where documents are stored from the 12th century and earlier. The exhibitions focused on the importance of pre-Spanish Inquisition Jewish life in Catalonia, and the intriguing 'news' that Christopher Columbus left for America to escape persecution.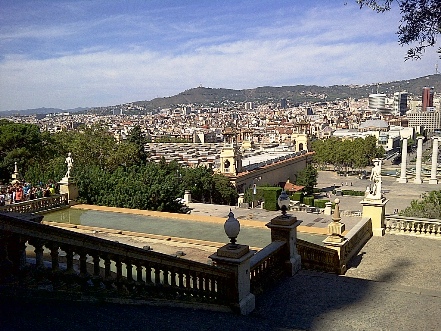 If we thought life could not be better, we were wrong. Our next hotel was the luxuriously hip Mandarin Oriental, Barcelona where we started with a swim and facial at the spa. Refreshed, we walked to La Sagrada Famiglia Cathedral and enjoyed tapas at Bankers Bar.
Day two, already feeling like locals, we took the metro to Park Guell and the Gaudi Museum, the weather perfect for walking and sitting outdoors for espresso and (wonderful Spanish manchego cheese and Iberian ham) sandwiches. After a siesta on a rooftop deck with views of the city and a dipping pool to cool off those tired feet, we walked to the old quarter, admired the fountains and sat outside for some more people watching.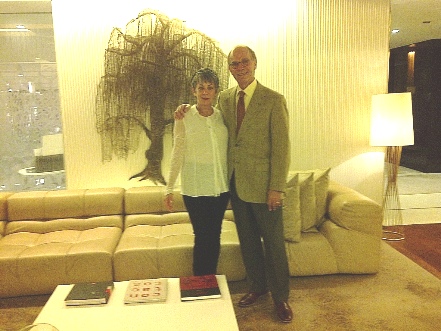 After breakfast, we shopped for espadrilles at La Manual Alpargatera, a wonderful hidden shop open since 1941, and then continued on to Parc de Montjuic, and the Mies van der Rohe Pavello (and had a chance to see the iconic chair in its home town), and Parc Joan Miró with its breathtaking city views.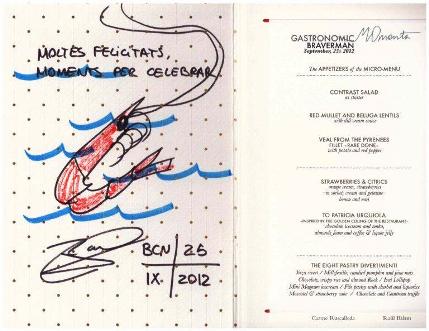 Dinner was at Moments, where we were indulged with excellent food and service, Tempranillo wine (from the most famous of Spain's grapes), a dessert of ganache, and a gift of (yet, another) wonderful menu with a hand drawing to mark the occasion by chef Raul Balam.
On our last day, we walked to Arc de Triomf, Cathedral by Gaudi and the phallic Torre Agbar. By now, it was officially gelati time and close to 3:00 pm (siesta time) so we hurried to take a peek into Gaston y Daniela, an important design resource that opened in 1876. With its vast archives of divine textiles, I was wishing I had them here in Washington, D.C. for my clients.
On our last evening in Catalonia, we sat by the piano bar, had a light meal and savoured every last delicious moment of our visit to a place filled with friendly faces, and an alegria de vivir.
Written by Bonni Braverman, owner of Bonni Braverman Interiors, LLC, a Georgetown-based design firm