Barbara Walters Honored by American News Women's Club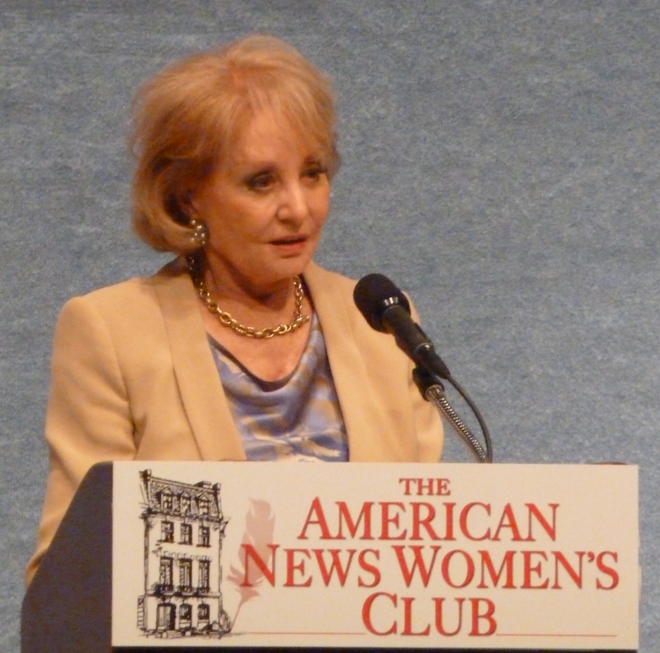 Veteran journalist, Barbara Walters received the American News Women's Club (ANWC) "Excellence in Journalism Award" at a luncheon held at The National Press Club Friday. Since 1932, the ANWC, originally created for women in the newspaper business, has grown to include professionals in a wide range of communication fields. The organization also supports aspiring journalists with a scholarship program, and three were awarded at the luncheon.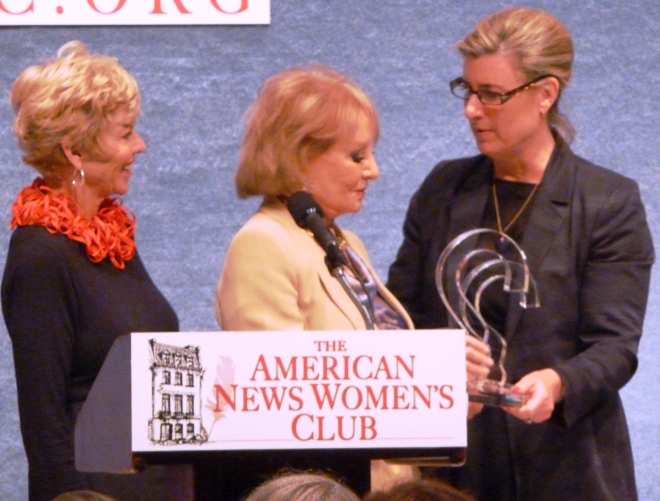 Benefit co-chair Ginny Daly, along with ANWC President, Claire Sanders Swift gave Walters the award, noting that Barbara, who has interviewed almost everyone, always "knows how to reel them in."
"You know she is probably one of the greatest journalists of our time," Swift said. "She really is one of the true original women who broke barriers in the field of broadcast journalism."
Master of Ceremonies, Norah O'Donnell, co-anchor of CBS This Morning, introduced guest speakers, Ted Koppel, Sally Quinn, Howard Kurtz and Bob Schieffer.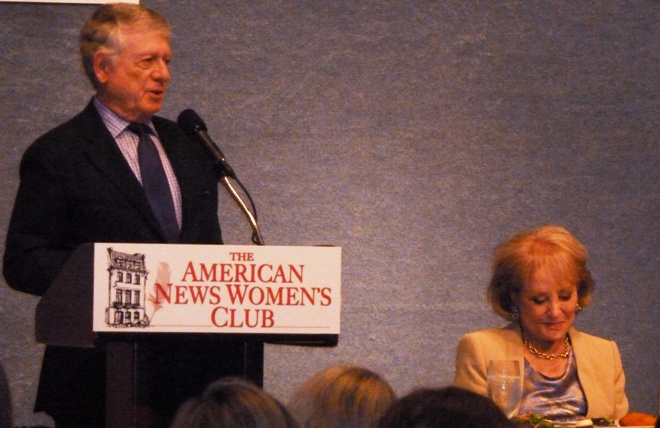 Describing what distinguishes Barbara from others, Nightline host, Koppel noted that she has "the guts of a lioness."
Reminiscing about the ill-fated 1972 evening news pairing of Harry Reasoner and Barbara Walters, he said it was "like 'Who's Afraid of Virginia Woolf' with Harry Reasoner playing both parts."
About their long and cherished friendship, Sally Quinn after sharing stories about her son, Quinn's crush on Barbara, and the competitive world of morning news anchors, had this to say about the world's first female evening news anchor, "They're all gone and we're still here. I can't imagine a world without Barbara Walters on TV."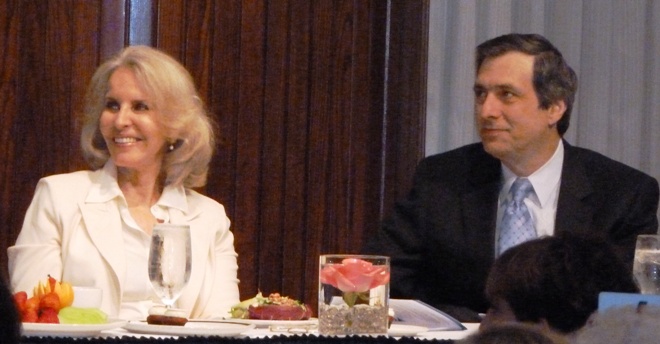 "This woman is the single best reporter I've ever competed against," said Face the Nation host, Bob Schieffer. He told a rapt audience, "We went to India and were all vying to get an interview with the 80-year old Prime Minister, Moraji Desai whom we'd heard a penchant for drinking a pint of his own urine daily for health reasons. Not only did she (Barbara) ask him about it, he answered saying it was the secret to his long life, and before it was all over, they were discussing it like fine wine."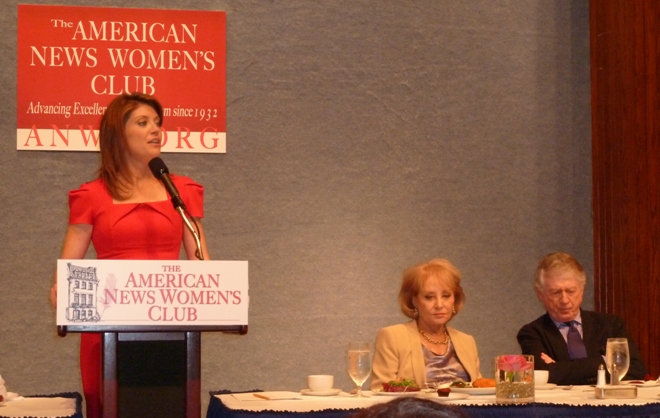 "At a state dinner in Tehran, an unbelievably lavish New Year's Eve dinner, the Shah had arranged a discotheque. Everyone was dancing. I said to Barbara, 'Why don't we dance over to President and Mrs. Carter?' We had heard he was secretly planning a trip to Egypt. We fox trotted over to the Carters. 'Oh and by the way, are you going to Egypt?' we asked. 'Well, we practically broke each other's legs to get the story.'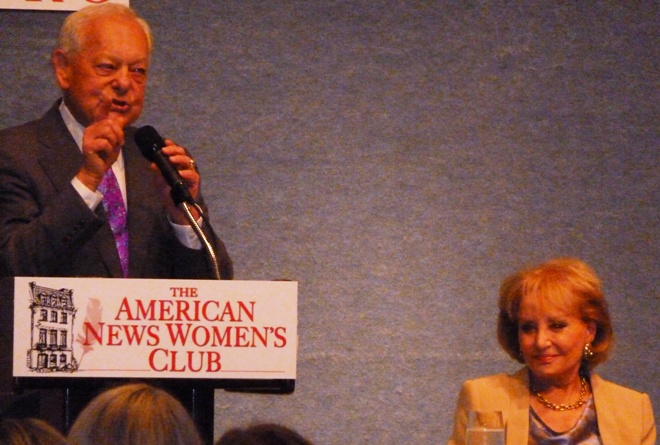 Tributes by those who couldn't make it included First Lady, Michelle Obama, "One of many reasons to love her, is that she's stayed true to who she is ... Her dog even sent my dog a gift." Tom Brokaw, "I like Barbara Walters because she's retired more times than me. And … she has GREAT legs."
When Barbara Walters took to the podium, after thanking her hosts, she pointed to friend and former Federal Reserve Chairman, Alan Greenspan in the audience, who was seated next to British Ambassador's wife Susie Westmascot, "It was at the British Embassy that I got chicken pox. I'll never forget you."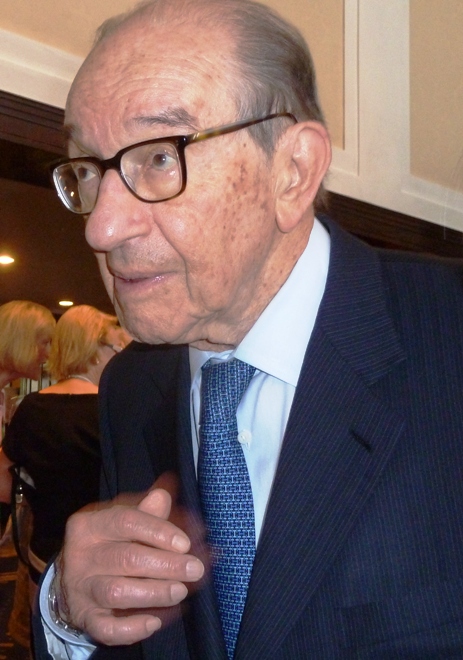 Describing the secrets of success, Barbara explained, "First of all I do not sweat on the air, never. I am never too hot, even when my co-anchors on The View are fanning themselves with menopause. 2) I never seem to have to go to the bathroom, and 3) When I go the theater, I never leave at intermission."
On her interview with Katherine Hepburn, made famous and parodied on Saturday Night Live, (the one where she asked her what kind of a tree she would like to be), Barbara said that she told her, 'I see things in shades of grey.' 'I pity you,' replied Hepburn. On why she never wears a dress, "I'll wear one to your funeral," promised the film star. Not believing it was possible to balance family with a career, Hepburn explained her choice, "I put on pants 50 years ago. I've lived as a man, I've made enough money, and I'm not afraid of being alone." Walters, who has been married four times (to three different men) echoed Hepburn saying that she too made enough money and was never afraid of being alone.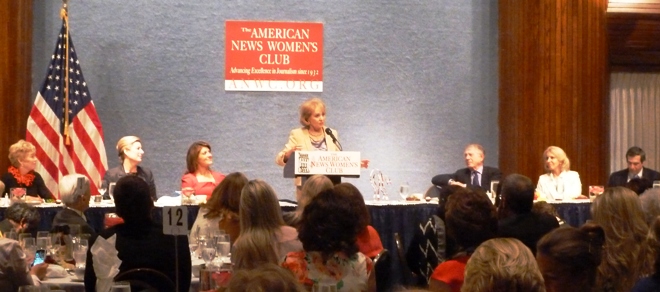 "I've met kings and queens. I've interviewed every president since Lincoln, she joked, before correcting herself, I mean Nixon. I've not interviewed The Queen (of England) or the Pope … yet. I hope to be interviewing the first female president."
In closing, Barbara, holding up her wine glass, quipped,"It's a good urine, not a great urine."