Bangkok Joe's Will Return to Washington Harbour Spot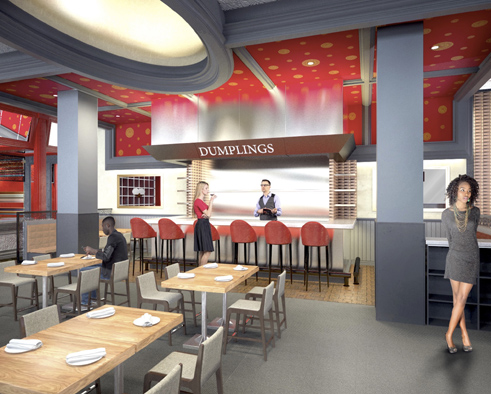 By Mark LiebermanCurrent Staff Writer
After more than a decade in Georgetown's Washington Harbour, Bangkok Joe's shut down with little fanfare in 2014. The owners of the Thai restaurant, Aulie Bunyarataphan and her husband Mel Oursinsiri, believed their clientele wanted something new. So they opened Mama Rouge, a Southeast Asian bistro with modern offerings, in the same space.
A year went by, and the couple realized they were wrong: Their customers still wanted Bangkok Joe's. As a result, the Thai restaurant is poised to reopen at 3000 K St. NW. The opening date, previously set for March 31, has not been confirmed, according to the owners.
"We want people to know that we heard them. That's why we're bringing it back," Bunyarataphan said. "It's not just that we wanted to bring it back. It's the customer — that's the main thing."
The dark wood design of the original Bangkok Joe's is gone, but the classic menu items and culinary techniques have been restored. The menu will feature a familiar blend of dumplings, buns, wontons, rolls, small plates, soups, noodle bowls and rice bowls, as well as Not Your Ordinary Joe's, a menu of "elevated entree specialties." The centerpiece of it all is the Dumpling Bar, a returning favorite that will offer an expanded range of delicacies.
When Bangkok Joe's first opened in 2003, the restaurant's prominently featured Dumpling Bar — positioned in a spot formerly occupied by a bank teller line — was the first of its kind in D.C.
"I just fell in love with the space," Bunyarataphan said. "The first time I saw the space, I was like, this is it. It's pretty unusual."
The Georgetown community wasn't quite ready for Bangkok Joe's when it first opened, Bunyarataphan now realizes. For a few years, the restaurant wasn't turning a profit. Eventually, tastes changed and word spread, with customers from D.C. and beyond jumping on board. One person asked to buy dumplings all the way from Texas, and another from California requested a sauce delivery, Bunyarataphan recalls.
But after 12 years, the owners felt ready for a change, and they thought the customers would be, too. When the new Mama Rouge concept opened in place of Bangkok Joe's, the couple found their customers frequently requesting the old menu items, Bunyarataphan said.
"I didn't realize that people really love and us miss us. There was nothing I could do at that point," she said.
The appeal of Bangkok Joe's lies in the homegrown nature of its offerings, according to its owner. Bunyarataphan said her cooking is inspired by her experiences growing up in Thailand, as well as her time working at a now-defunct Thai restaurant in Glover Park in the 1990s.
Bunyarataphan spent a lot of time working in restaurants after she moved to the United States to pursue her bachelor's and master's degrees in information systems. Eventually, she realized she wanted to stick with restaurant work, aspiring for a behind-the-scenes role as a chef.
Bunyarataphan also plays this role in two other restaurants she owns and operates in Arlington: T.H.A.I. in Shirlington and Tom Yum District. Her husband Oursinsiri manages the front end of their establishments.
"He's good with the customer," Bunyarataphan said. "I'm not."
Bunyarataphan says today's diners seem to fully embrace all the varied and spicy flavors of Thai food, in a way that wasn't true when Bangkok Joe's first opened. Customers are more likely than they had been to try a menu item even without knowing what's in it, she said.
"I see a lot out there that people are more adventurous about ingredients. They're more accepting about Thai, they have more knowledge about the food, and they're more willing to try new things," Bunyarataphan said. "Whatever we put on the menu, they will love it."
This article appears in the March 16 issue of The Georgetown Current newspaper.