Avoid Tangling With Georgetown Halloween Traffic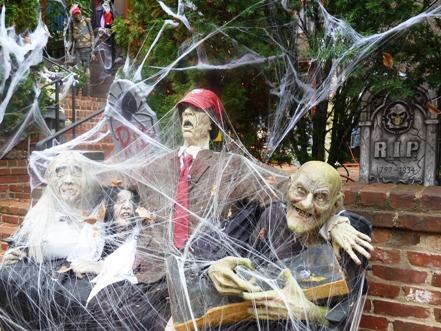 On Halloween, Friday, October 31, 2014, beginning at 4:00 pm until 6:00 am Saturday, November 1, 2014, parking will be restricted on the following routes/roadways:
* K St, NW from 30th Street to Wisconsin Avenue, NW
* Water Street, NW from 33rd Street to the mouth of the Capital Crescent Trail
* 1000-1300 Blocks of Wisconsin Ave. NW
* M Street NW, from 25thStreet to the Key Bridge
* 1100 block of 26th Street NW
* Thomas Jefferson St.-1000 block (from the canal north to M Street)
The following streets will be closed to through traffic.Only residents, visitors, and employees of businesses within these areas will be granted access.
Additional streets may be closed and/or opened at the direction of the Second DistrictCommander or his designee.
Citizens must present proof of work or residence to gain access to these streets. The restrictions will be in effect on Friday, October 31,2014 at 6:30 pm, until Saturday, November 1, 2014 at 4:00 am.
* 1000 block of Grace Street NW
* 1000 block of Thomas Jefferson Street NW
* 1000-1500 blocks of 29thStreet NW
* 1000-1500 blocks of 30thStreet NW
* 1200-1300 blocks of Potomac Street NW
* 1200-1500 blocks of 27thStreet NW
* 1200-1500 blocks of 28thStreet NW
* 1200-1600 blocks of 33rdStreet NW
* 1200-1700 blocks of 34thStreet NW
* 1500 32ndStreet NW
* 1600-1700 blocks of 35thStreet NW
* 2600-3100 blocks of Dumbarton Street NW
* 2600-3100 blocks of P Street NW
* 2600-3600 blocks of O Street NW
* 2700-3600 blocks of N Street NW
* 2700 block of Poplar Lane NW
* 2700-2900 blocks of Olive Street NW
* 3100 Block of Blues Alley
* 3100 Block of Oak Alley NW
* 3100 Block of South Street NW
* 3200-3400 Q Street NW
* 3200 Block of Cecil Place NW
* 3200-3600 blocks of Prospect Street NW
* 3300-3400 blocks of Dent Place NW
* 3300 blocks of Cady's Alley NW
* 900 Block 30th Street NW