Author Mollie Gregory Leaps Tall Buildings in STUNTWOMEN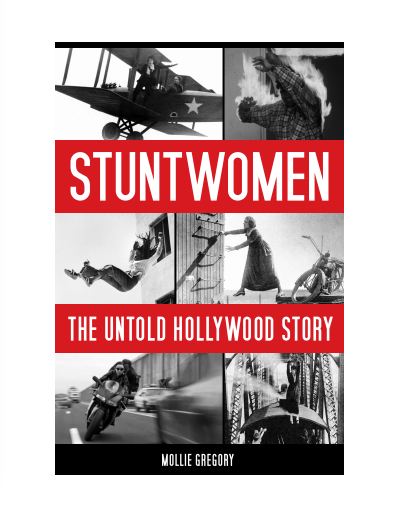 They've traded punches in knockdown brawls, crashed biplanes through barns, and raced to the rescue in fast cars. In STUNTWOMEN: The Untold Hollywood Story, author Mollie Gregory presents the first history of stuntwomen in the film industry from the silent era to the 21st Century. Gregory will be featured this week by Women in Film & Video in a book talk Tuesday, Jan. 12 6:30-8:30 pm at Interface Media Group, 1233 20th St. NW. More event info here.
Why did you write your book, STUNTWOMEN: The Untold Hollywood Story?
The short answer is--a stuntwoman talked me into it.
When my nonfiction book WOMEN WHO RUN THE SHOW was published, a stuntwoman, Julie Ann Johnson, asked me to sign her copy. She told me some amusing and hair-raising stories about stunts and wondered if I'd write a book about stuntwomen. I didn't want to write another nonfiction book, I was drafting a novel. When she started to talk about discrimination and harassment and how the business of stunts really worked--that's when I began to realize maybe I could take a year to write about stuntwomen. Ten years later, after interviews with 65 stuntwomen and a number of men, this book is published.
What other books have you written?
The first was MAKING FILMS YOUR BUSINESS, nonfiction, about my experiences as a documentary filmmaker. Then novels -- TRIPLETS, BIRTHSTONE, PRIVILEDAGED LIES, EQUAL TO PRINCES -- all were in some way based on real events or conflicts in the movie /TV industry. WOMEN WHO RUN THE SHOW traced the work of women in the entertainment industry -- what they really had to contend with from 1970 to 2000. I interviewed 125 women, and about 10 men.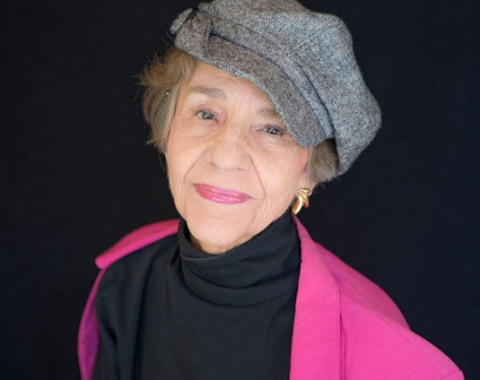 What were the biggest challenges in writing the book about stuntwomen?
I knew nothing about stunts or the people who did them and no book about stuntwomen from silent movies to today had ever been written. For the early period film historians Kevin Brownlow, Anthony Slide and William Drew helped me. They are experts on that period, had written key books, and they knew the names of a few women who performed in early action serials. Stuntwomen were and are athletic actresses. Producer Gale Anne Hurd's aunt, Jewell Jordan Mason, had been a stuntwoman from 1928 to 1942. And I was introduced to a few major stuntwomen who had started in the 1940s. They could recall in detail stunts they'd done fifty years before. So this history is told by the people who did and do the stunts.
What surprised you the most?
The deeply engrained discriminatory practices against minorities and women in entertainment industry.
The superb athletic abilities of stuntwomen (and men). The women's courage, tenacity, good humor, and their adaptability--because when something in a stunt changes or goes wrong, they must react in seconds. That's a skill the learn on the job.
I was surprised how much they enjoy their work despite discrimination, sex harassment, unequal pay, and lack of promotion opportunities. Their struggle just to get the work went on for decades, all the way into 2000s.
Related to surprises, I would add this: There is an attitude in this country--maybe every country--that what women do is not really important. It's not spoken or analyzed but it's there, and it applies to stuntwomen because it is linked to another attitude, which is this: stunts are not important and anyone who does them must be nuts. When the remarkable Danny Aiello III worked as a stuntman, people kept asking him, "'Are you stunt guys crazy?' No. We're probably the sanest people on the set. We're very smart. We have to be. If an actor screws up, all they do is say 'Cut.' If we screw up, people can get seriously hurt."
The movie and television industry affects and influences all of us. What we watch on the screen--whether in 1915 or 2015--inspires us and gives us ideas. Movies have done that, which the book fully describes, for a hundred years.
How do you feel about the status of women in Hollywood today?
It's not where it should be. The statistics done by Geena Davis's Institute of Gender in Media, by the Annenberg School, and by Dr. Martha Lauzen are appalling - In television, 14% of women direct, 21% of editors - the figures go up and down by 2 or 5 percentage points--some are back at levels cited in 1998, 17 years ago. We are not gaining ground and that won't change until women refuse to accept that status, and until the guilds, which negotiate contracts every three years with Alliance of Motion Picture and TV Producers (AMPTP), demand increased access of women in the entertainment industry.
Give us some highlights from the book?
This book records all kinds of memorable times--from outright joy to real danger.
Stuntwomen Marguerite Happy: "As a stuntwoman, I get to crash cars, jump cars and go 110 miles an hour! I'm not a high fall person, but sometimes I get to be pushed or shot off buildings—it's in the script! We get to hit the decks in explosions, fire automatic weapons, play cowboys and Indians, cops and robbers. We get to play aliens!"
Stuntwoman Shauna Duggins in a car submerged in a lake. She can't get door to open and she's trapped. She did get out but how did she do it? Read the book. Amazing story.
The Julie Ann Johnson case--a full chapter. She was a stunt coordinator when almost no women held that position. Julie sued Aaron Spelling Productions for unlawful termination - and won, then lost on appeal. Many stunt people were called as witnesses, and the book cites some of the testimony. Reading the transcript of that case was like a short course on stunt work.
Stuntwoman Nicole Callender's unusual specialty inspired her. A theater major in college, she studied unarmed, hand-to-hand fights and fights with weapons. "When I picked up a sword I couldn't believe I hadn't held one before. It informed my work as an actor. That sword was like I'd found a missing link." She began her stunt work in 2001. Only later did she realize her image as a woman armed with sword had impact, especially when teaching fight techniques to young actors. "On one level they know women have more opportunities now, but when they see me physically fight with a broadsword, and then do it themselves, I hear them say, 'I can do anything now—no limits!' They don't have to settle for a job behind a desk."
How can we find out more about the book and Hollywood stuntwomen?
A few stuntwomen have written their individual books, such as Julie Ann Johnson and Angela Meryl. Stuntwomen are not just in Hollywood and New York City; they're all over the country, and in other countries that produce movies--China, Australia, Great Britain, Japan, France, and many others.
Go to my website www.molliegregory.com for more details about the book and stuntwomen, and you can contact me with questions. You can get the book from your favorite bookstore or go to Amazon.com, and once you have it you can check stuntwomen's credits, biographies and websites on IMDB. In January and February I'll be on the road--New York City, Washington, D.C., San Francisco, Portland, Oregon, and in Los Angeles, signing books as I go.