Attention Space Jam Fans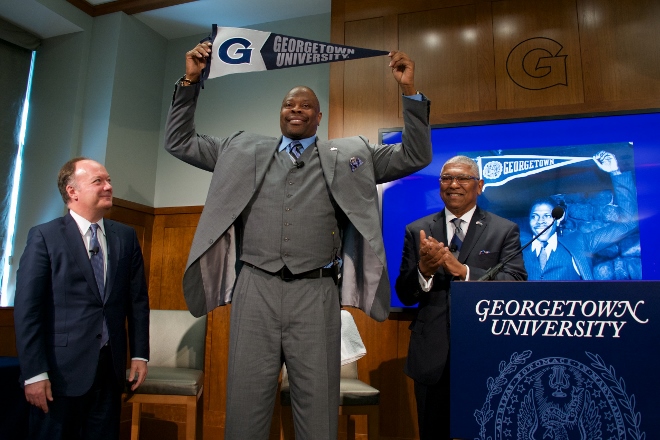 Patrick Ewing is Georgetown University's men's basketball coach, as announced Wednesday. But for many kids, especially younger ones, that's not the real attention-getter here.
Alert! Alert! Ewing is a film star, too.
He is one of the performers along with basketball super-great Michael Jordan, Bugs Bunny, Elmer Fudd (and other Looney Tunes characters) in the 1996 hit movie Space Jam. The movie with its sequels is must-see fare on kids' tablets and other video venues for those who value funny stuff on the courts.
Expect Ewing to get shout-outs from the parent and grandparent fans who have seen the film dozens of times on the insistence of the little people in the house.
For those kids around the area who now are, or soon will be, teenage basketball hotshots in their own right, there might even be a special bonus prize – an in-house visit from Ewing recruiting their services for the Hilltop.
It's not every day you can get a film star, a three-time collegiate first team All-American, a No. 1 NBA draft pick, an 11-time NBA All-Star, an Olympic champion, and a basketball Hall of Fame inductee in your living room – and all in one guest.