Asparagus Already?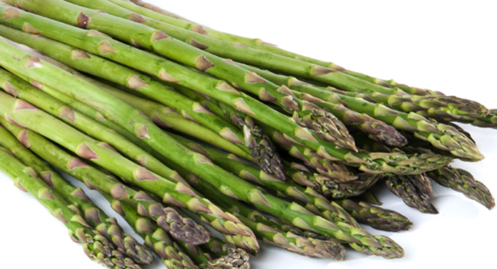 If any food says spring loudly and clearly, it's asparagus. Asparagus season is earlier than usual because of the record-setting warm winter weather, and I, for one, am grateful. As someone who almost exclusively buys my produce from the farmers' markets, I've been feeling a bit bored with winter's kale, potatoes and beets... Kale and potatoes and beets, oh my!
I have several luscious asparagus recipes I've been dying to get into. Before I share them with you, let me tell you why asparagus is so good to eat (besides being uniquely delicious).
Asparagus is packed with nutrients. Low in calories, it's an excellent source of folic acid, thiamin, vitamin C, and B6. Asparagus, like other fruits and vegetables, is sodium- fat- and cholesterol-free. It is an important source of potassium and nutrients important for boosting your immune system, reducing inflammation, lowering blood pressure, and preventing heart disease and cancer. Asparagus is especially high in glutathione, one of the body's most potent cancer fighters, according to the National Cancer Institute. It's also high in rutin, which is valuable in strengthening the blood vessels.
When buying asparagus, it should be bright green with tight, firm tips. And you'll need to get to the farmer's market early, as it goes fast! I'm not the only one eager for change...
My favorite asparagus recipe is one I developed with my client, Rebecca. We made a mess in her kitchen with several bundles of asparagus at different stations. We roasted it, steamed it, and sautéed it. We tried a variety of dressings and accompaniments.
The result? "Chilled Asparagus in a Creamy Tarragon, Shallot, and Roasted Walnut Vinaigrette." How delicious is it? Let me just say my friend Cindy Mize, who I immortalized in my book, Diet Simple, as having just lipstick and fingernail polish in her refrigerator (during her younger days in Washington), says she can't sleep knowing it is in her refrigerator. In her new life as president of Miami Capital Properties in Key Biscayne, Florida, she has many dinner parties at which my asparagus recipe is featured. After her dinner guests leave, she sneaks to the refrigerator at midnight to scarf up the leftover. I can hardly believe this transformation: but I guess you should say that's the power of a great recipe!
A few of Katherine's favorite asparagus recipes...