Ask April: How To Spice Up My Spring Wardrobe?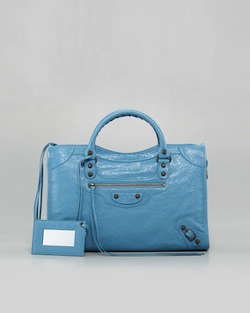 Susan P. from Arlington, VA wrote Ask April:
"I recently spent time re-organizing my closet for Spring and when I finished I noticed my wardrobe lacks color, while I have plenty of neutral pieces. What would you suggest I purchase to add some spice to my wardrobe?? I'm looking to buy pieces that are colorful and fun but also versatile - I'd like to make my dollar go a long way. :o) Thank you!"
Thanks for your submission Susan P! The answer is simple - we're going to add several staple pieces that will not only brighten your Spring wardrobe but will work in many different ways.
1. Find a Bright Blazer
The bright canary yellow Theory Stretch Blazer (below) - available at Neiman Marcus - is a greatchoice and will work paired with white jeans and white tank as shown in the picture, but you could also throw it over a black sheath dress headed in to the office or wear it with a pair of black high-waisted short shorts and a turquoise blouse. There are plenty of options when wearing this bold colored blazer but most importantly it will add that POC (pop of color) you're searching for.
2. Colorful Print Maxi Dresses
Picking up a couple of colorful print maxi dresses is an easy way to add color to your Spring wardrobe and they're easy to wear because the print and colors stand out so much so that you won't have to worry about accessorizing much or matching them with other pieces. Just throw it on, add a pair of chandelier earrings and flats or heels and you're good to go! The cloudy blue print, one-shouldered Rebecca Taylor maxi dress (below) will have you looking like a vision from the heavens and you can easily throw on some gold bangles and/or earrings or get adventurous and carry a POCclutch alongside, like a coral or raspberry! Fun!
Rebecca Taylor Python-Print Silk Dress at Neiman Marcus
3. Add a POC Handbag or Shoe
One of the easiest ways to add that POC to your any wardrobe is with a colorful handbag or shoe. Since you have plenty of neutrals to play with you'll find yourself easily accomplishing your task of spicing up your ...
Balengciaga just released their Spring handbags and I'm a huge fan of their classic city bag because it comes in so many bold and fun colors every season and adds an edgey vibe to any look you rock. I wear mine season after season - don't think you can only wear colors in Spring/Summer, you can wear them all year long!
I'm also forever in love with Prada handbags and shoes - the quality is fabulous and the leather wears well over time. The fuchsia pink tote (below) is one of the on-trend colors this Spring/Summer and the style of the bag is a forever classic that you'll use for many years to come whether you're headed in to the office or to brunch with friends.
Prada Double-Handle Tote available at Neiman Marcus
POC pumps have the same affect as handbags do and will pop out against any of your neutral looks!
Jimmy Choo Leather Pumps available at Net-A-Porter
4. Colorful Scarves
Scarves are a great way to look effortlessly chic and will never go out of style. You can wrap them in so many different ways, wear them casual or dressy and you can also tie them on to your handbag!
Be on-trend with this animal print baby blue/black Dolce & Gabbana scarf.
Dolce & Gabbana Animal Print Scarf available at Net-A-Porter
Tribal prints were also on-trend for Spring/Summer 2012 and the Anita Batik scarf below combines that trend along with plenty of colors for you to add this to any of your neutral looks OR as shown paired against color.
Anita Batik scarf available at Net-A-Porter
I hope this helps you get started on adding those POCs to your Spring wardrobe!
XOXO
~MyDCStyle