Artwork of Georgetown Finds A High Profile Home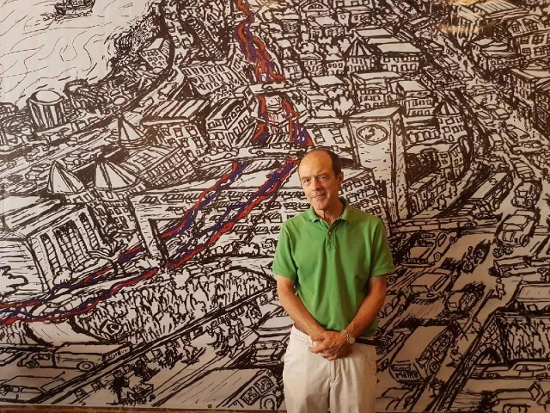 Newly installed this week at Georgetown's il Canale restaurant at 1065 31st Street, is this magnificent banner mural by Georgetown artist Sidney Lawrence.
Boldly executed in pen and ink for vinyl enlargement, this one-of-a kind aerial view of Georgetown and its historic Chesapeake and Ohio Canal (C&O) uses bright red and blue lines to mark the canal's meandering path into the Potomac.
Once hung on the facade of the old Latham Hotel building, the mural was commissioned by the Georgetown Business Improvement District (BID) to raise awareness of this 19th Century waterway. Mr. Lawrence donated it to il Canale on behalf of Georgetown Heritage's Canal Restoration Fund.
Now installed inside the restaurant, the work is huge: 8 by 18 feet, commanding an already huge brick wall.
Pictured here after the installation on Wednesday (Aug. 31) at il Canale is the artist.
Barbara Hawthorn Interiors, Ltd. assisted in the installation.