Arnold, Easy Like Sunday Morning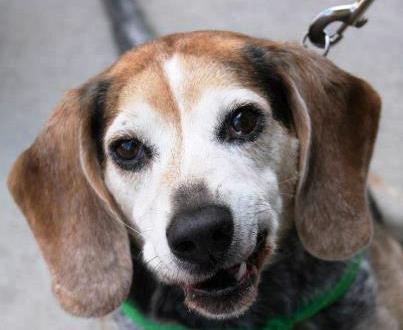 On my walk to work this past Sunday I saw the Lucky Dog Adoption event in front of The Dog Shop in Georgetown. I currently have two adopted dogs Ella and Rue but decided to cross the street and see what was going on.
While walking through the alley of 47 dogs in need of a home, I saw a Beagle named Arnold. His sweet face stuck out in the crowd and made me walk right over to him. He's not a puppy, he's not the youngest, but he is the sweetest.
Words cannot describe how endearing Arnold is. He has such a presence ... his eyes just look like he's going to start talking, a quality that's always appealed because it often indicates their intelligence. Sadly, my home has no room for a third, but my heart strings started to tear a bit because I knew just how special is Arnold.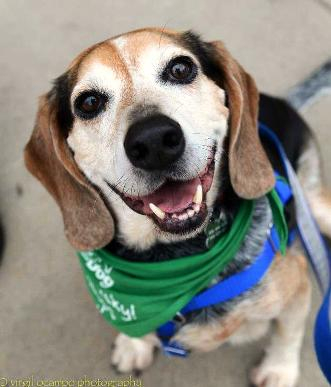 After leaving the event I decided to do whatever it takes to get Arnold adopted into a loving home for his senior years. A perfect fit for an older individual in need of a companion, or for someone who recently lost a pet or for a full house that has enough room and love, Arnold is a companion for all!
Why Arnold is such a great dog. He's wonderful around adults, children, and other dogs. He was rescued from a high kill shelter and currently has been in the Lucky Dog Rescue program for almost a year. In dog years that's seven years, way too long for this loving dog to be without a home.
He is a special needs dog with some arthritis but moves freely and pain free with anti-inflammatories. His favorite thing to do is to be in a car and he has a love of squeaky toys. His nickname in the shelter is the "shoplifter" because at adoption events he "steals' toys from the Petco. He's is a character and easy like Sunday morning!
If you have room in your heart and home, please contact Joanne at joannek@luckydoganimalrescue.org and check out Lucky Dog Animal Rescue.
Remember, the best breed of dog is "adopted."
Written by Krista Johnson, owner of Ella-Rue in Georgetown.