Archaeological Work Set to Begin on Dent Place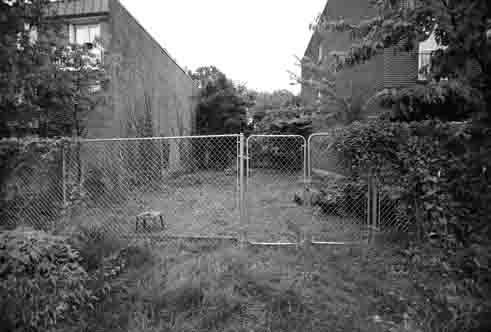 By Brady HoltCurrent Staff Writer
After nearly two years of fits and starts, a planned archaeological investigation at 3324 Dent Place in Georgetown showed signs of life on Monday, with workers clearing brush from the vacant lot to prepare for excavations.
The property once belonged to Yarrow Mamout, who built his home there in the early 19th century after being freed from slavery. Historians believe he might even be buried on the property — a common practice in Georgetown at the time — and D.C. Historic Preservation Office archaeologist Ruth Trocolli has been hoping to dig there since December 2012.But ownership of the property became murky, with developer Deyi Awadallah and a former resident battling over the issue in the courts.
Awadallah bought the property at a 2012 tax sale when it held a blighted wood-frame home devastated by years of neglect and then a falling tree. Neighbors referred to it as "the tarp house" for the blue plastic stretched across a hole in its roof. The building became filled with rainwater, vermin and breeding mosquitoes, leading to concerns about health and aesthetics alike.
Awadallah secured rare permission to raze a house in historic Georgetown, with plans to construct a new one of a similar size on the spot, and agreed to let Trocolli investigate the property beforehand. But that was delayed by the ownership dispute; Awadallah said in an interview Monday that he has another court date later this month as the dispute continues with the prior resident, who lost the property over nonpayment of taxes.
In the meantime, the city deemed the property hazardous and razed it last November. And Trocolli at last secured permission to access the site, waiting only on a partnership with Howard University to be finalized.
Monday's work was carried out with members of the National Park Service's Urban Archaeology Corps, local youths participating in a 10-week internship. "They are helping us clear the brush and get it ready for archaeology," said Trocolli.
She had originally hoped that the group would also help with the excavations, but "it's a summer program and we're running out of summer."
"To complete the archaeological investigations themselves we will need a year-round partner, hopefully Howard University archaeologists and students," Trocolli added in an email.
Once the investigation begins, likely in September, Trocolli said she hopes to find "evidence of occupation by Yarrow Mamout" — the remains of his home (which predated the one recently demolished), trash from his time there, and perhaps even his remains.
In the meantime, neighbors appreciate the cleanup.
"At last it's on an acceptable track, and it's very good to see that the city is making progress on this site," said advisory neighborhood commissioner Ron Lewis, whose single-member district includes 3324 Dent Place. "It's very rare in Georgetown that a property falls into extreme disrepair as this one did. So it's a great sign that it's now on track toward restoration."
Awadallah said he still hopes to eventually build a new house on the property, which will also require an extended Old Georgetown Board design review once the site's ownership is sorted out. Asked about the expected timing, he said it all depends on the legal process. "I have court in a couple of weeks. We'll try to figure it out from there," he said.
This article appears in the Aug. 13 issue of The Georgetown Current newspaper.