Archaeological Work Delays Plan for Georgetown Home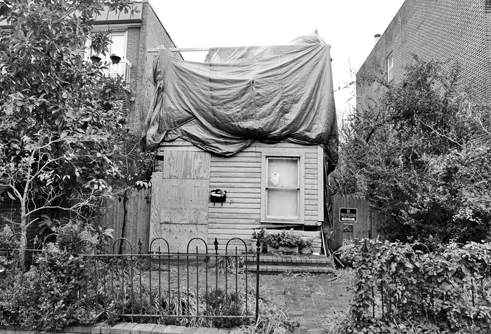 By KATIE PEARCECurrent Staff Writer
Tipped off by a local author, the city is now digging into the history of the Georgetown property owned by prominent freed slave Yarrow Mamout in the early 1800s.
City archaeologists intend to survey the property at 3324 Dent Place within the next few weeks, putting a planned redevelopment project on hold.
"There's a lot of interest in it," said archaeologist Ruth Trocolli of the D.C. Historic Preservation Office, who plans to do a "reconnaissance" mission at the property in northern Georgetown. "If there are intact archaeological remains, or maybe even human remains," Trocolli said, the investigation could grow.
Local writer James H. Johnston, who published a book about Yarrow Mamout this year, alerted archaeologists to the land's historical significance. He's been closely following the redevelopment plans for 3324 Dent Place after a new owner purchased the blighted house there last spring and later proposed razing and replacing it.
"One of the first things I said to the city was, 'Don't let this be demolished,'" Johnston said. "They now agree that Yarrow was the most prominent African-American in Washington of this era. Over time they've come on board with this."
Johnston believes that Yarrow himself could even be buried in the southeast corner of the lot, based on evidence from his obituary.
According to Johnston, Yarrow — a Fulani Muslim who used his last name as his first — came to America in 1752 aboard a slave ship from Guinea. He won freedom from slavery in 1796 and purchased the Dent Place property four years later, establishing himself as a brickmaker and affluent Georgetowner.
But the dilapidated wood-frame house that now sits at 3324 Dent Place actually post-dates Yarrow, who died in 1823.
Before the recent archaeological developments, the fate of that house was the biggest question mark on that property. Deyi Awadallah, who purchased the vacant and neglected Dent Place home from its longtime owner this year, initially planned to rehabilitate it. But once an engineering assessment proved the house unsalvageable — especially after a tree smashed its second story during Hurricane Irene — he sought permission to tear it down.
In October, Awadallah told the Georgetown advisory neighborhood commission of his plans to build a new modestly sized home on the lot. The commission, though reluctant to give up on the 1850s-era original home, ultimately supported Awadallah's proposal to remove the neighborhood eyesore. The Old Georgetown Board also raised no objection to the raze application.
So far, though, those plans haven't moved forward. And according to the D.C. Department of Consumer and Regulatory Affairs, no raze permit has been filed.
In light of the site's new interest to archaeologists, Trocolli said, Awadallah has granted the city permission to investigate. If the initial review uncovers anything interesting, she said, it would be up to the owner whether research could continue — since local laws wouldn't mandate his cooperation.
Awadallah, of the D.S.A. Properties & Investment firm, was unavailable for comment. Earlier this month he told the Common Ground News Service that he knew nothing about Yarrow when he bought the property, but was willing to give archaeologists time to explore.
Trocolli said historical maps have confirmed that "this was definitely Yarrow's property at one point," but it's unclear where exactly his house was located. She said it's possible it was built in an area that's now a backyard swimming pool.
A few years ago, archaeologists found a small cemetery on property next to Yarrow's, containing the graves of five African-Americans. None matched the description of Yarrow, Trocolli said.
Author Johnston believes the dirt-floored brick cellar beneath the existing house could contain significant artifacts. "If you dig, you might find items from [Yarrow's] time period," he said, adding that the bricks in the cellar's foundation might even be Yarrow's handiwork.
Johnston, an attorney who lives in Bethesda, recently published his book "From Slave Ship to Harvard: Yarrow Mamout and the History of an African American Family" after eight years of research.
His interest was first piqued by a portrait of Yarrow he saw hanging in the Peabody Room of the Georgetown Library — and then another portrait of Yarrow he found by famous early American painter Charles Willson Peale.
This article appears in the Dec. 12 issue of The Georgetown Current newspaper.