Arab Games celebrated in Doha as American troops withdraw from Iraq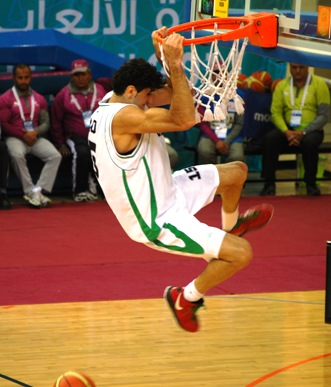 As Qatar celebrated its National Day, Iraq's national basketball team joyfully marked its own country's form of independence with a victory at the Arab Games in Qatar's capital, Doha, just hours after America pulled its last combat troops out of Iraq.
While many thousands attended festivities on Sunday marking Qatar's version of the Fourth of July, a few score watched Iraq win a tight game over Morocco in a preliminary round game. An Iraqi player punctuated the win with a game-ending dunk. Local cab drivers had a tough time finding the venue amidst a large multi-sport complex. Tickets were given out free for basketball and others of more than 20 sports being contested during the two-week Games. The regional event is good pratice for a small nation that will host the World Cup football (soccer) tournament in 2022 and is bidding for the 2020 Olympics. Recommendation to the organizers: step up the marketing, signage and event merchandising. I wanted to buy an Arab Games poster, but none were to be had at the event or local shops--even an official Games kiosk at a huge mall. I was in Abu Dhabi visiting a law firm official and took a 40-minute Qatar Airways flight to Doha for the National Day and Arab Games.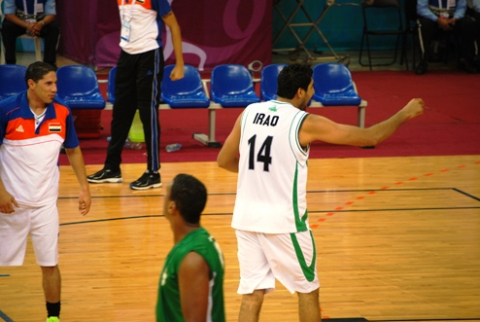 For Qatar's celebration of the country's founding, sidewalks flowed with Qatar families, expatriates and tourists. Cars decorated with maroon and white flags and decals--the national colors-- sped along streets of this oil rich country. To a newcomer, Qatar's main city of Doha is fascinating with its tall, sleek, architecturally spectacular office buildings, hotels and residential complexes rising from what once were sand dunes and now mostly memories of camels and Bedouin tribes. In Abu Dhabi , another modern Arab metropolis, construction cranes also zig -zag through the sky. Underfoot, the older thoroughfares are a maze of new concrete, red cones, yellow warning tapes and fresh routes--a challenge to even the most polished of joggers.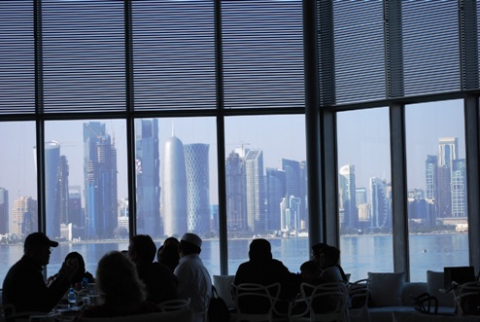 So much construction is underway that the sea blue glass window panes of already built high rises must be cleaned by men swinging from ropes on regular flights.