Antoine has paws firmly planted and good nose for truth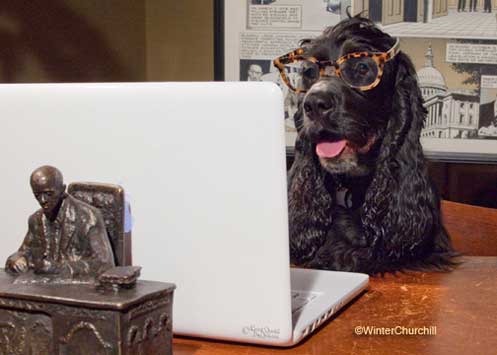 Dear Readers,
My name is Antoine and I am a French cocker spaniel living in our Nation's capital. Like many of you, I wasn't born here. I was whelped in Cuyahoga County, Ohio -- that's Cleveland.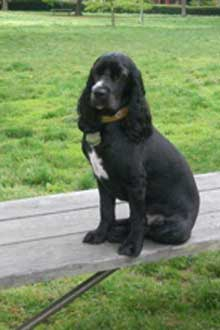 At a very early age, my original human parents sent me to work to help out with the family income. I found a job barking out safety warnings in the steelyards of Cleveland. It was a good job but when the economy tanked, dogs like me were the first to go. Although it was heartbreaking for my parents, they found a new home for me here in Washington D.C. where there are better prospects for a young, smart dog.
My new Mama takes me to Montrose Park every day. It's a lot different than the lamp posts and fire hydrants of Cleveland. I've met a lot of Longhairs, and we have fun rolling in the grass, chasing sticks and learning about each other's human families. The mother of my pretty little Papillon friend Lolobrigita is an important economist at the World Bank. My friend Liberty is something called a "Heinz 57." He says he's with the Tea Party. Anyway, my pal Statesman introduced me to his father, who's a U.S. Senator, and one puppy, which will remain anonymous, says his parents both work at the White House and claims he knows the famous "Porti," Bo Obama.
What I've learned from my Montrose meetings is that dogs and humans are more alike than most folks think. Some are smart and others think they are smart. What we all have in common is that we hate being tied up. We wish to run free, but nobody wants to get run over by a truck. Most of us don't need steak, gold collars and a three-story doghouse to be happy. A loving pack, tasty chow and an occasional bone to chew is all we really need to keep our tails wagging.
I know I'm one lucky dog. My human parents, Poppa Mark Bloomfield and Mama Claudine Sorel are very humane. They sent me to the very best obedience schools and gave me every opportunity to take advantage of D.C.'s rich, cultural diversity. They raised me to be the kind of dog that can lead a pack by example. I've had opportunities that other pups never even dream of. I know that dogs like me can grow up to be almost anything they want in a town like mine. That's the kind of society our nation provides but every dog must shake a leg.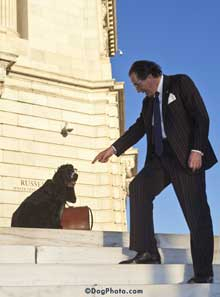 That's why I am trying my paw at writing even though everyone darn well knows that dogs don't have opposing thumbs. But typing with a pen clenched in my teeth, I can put my thoughts down and do my small part in turning around the U.S. economy and restoring what humans call the "American Dream." I think that means with each new generation of puppies, obedience, food and playtime is a little bit better, but I'm not sure this is still true.
The other day, I Skyped a Shar Pei acquaintance of mine in Beijing. Woo was bragging about China becoming the world's largest economy in a few years. Taunting me, he pushed his big, wrinkled nose right into the monitor and howled, "You Americans are has-beens. The world's gonna forget you, man. Har har, har."
Dog-gone-it, my hackles were up about the future of our country. I logged off Skype and went hunting for Poppa Mark. He's always talking about how to make the economy better. When I asked Pops, he gave me a really serious look, like the time I "made a mistake" on the rug. But I knew I'd been good, so I jumped up on his lap and he explained economics to me. He helped me understand how "Washington, D.C." works, and now I feel like the character in "Mr. Smith Comes to Washington." He told me his plan, and now I want to share it with every Senator. I don't know if they'll understand it but I know you will. "It's simple," he said, "once we get through the current recession, we've got to save and invest more to grow our economy. Today saving, investment and hard work are taxed excessively, and tax reform has got to fix that." It's all explained in a recent USA Today op-ed. I wrote most of it, but Pops is taking the credit.
Very soon, I'm going to do a videoconference with Bo Obama. He may not know it living in the White House, but because of all the jobs lost, many of my friends are in shelters. I'm going to share the plan with Bo and ask him to help. I may not have a PhD or work at the White House, but I have four paws firmly planted, and a good nose for what's right.
So listen up my fellow dogs. I need your help to share our message with all of your friends, so we can add your bark, meow or whinnie to our collective howl to Congress. Sure, like Washington DC, we suffer "taxation without representation." But I followed President Obama around Chicago when he was community organizer and I learned about "mobilizing the disenfranchised." That's you and me. Think of it, we're a pretty large pack. There are more than 73 million dogs in America, and hey, we can get help from our distant relatives — cats, horses and fish! You can start by asking your humans and friends to "Like" me on Facebook.
Thanks so much for reading my first column. Please paw me a line and let me know your thoughts.
Woof, woof. Antoine