Annual Georgetown House Tour on Saturday to Highlight Historic Homes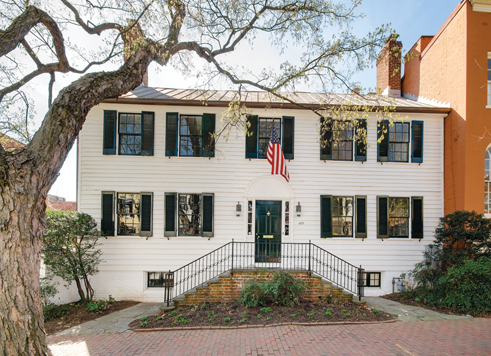 By Katie PearceCurrent Staff Writer
Scott Altman, the former NASA astronaut who's co-chairing the Georgetown House Tour this year with his wife, Jill, says organizing for the big event is not unlike "preparing for a space mission," with all the intricacies and teamwork involved.
"Right now, it's like countdown," Altman says of the pending event, expected to draw over 1,200 visitors to Georgetown this weekend.
Believed to be the oldest house tour in the nation, the Georgetown tradition celebrates its 85th anniversary this Saturday, inviting the public to get a glimpse of 10 distinctive homes and gardens in the historic village. The events kick off with a Patrons Party fundraiser tomorrow evening, culminating with the house tour and tea this Saturday.
The 2016 tour includes a mix of eclectic properties with memorable histories. One is the former home of a famous American spy during World II, code name "Cynthia," who was known to use her charms to seduce and gain the trust of a number of foreign dignitaries and officials.
Acclaimed architect (and Georgetown resident) Hugh Newell Jacobsen is responsible for the look of another home on the tour, an 1879 property that he helped the current owners update. Another highlight is a unique "double house," owned by Georgetown University, that was originally two separate buildings in the late 1800s.
As always, the tour and its associated events help fund the mission of St. John's Episcopal Church at 3240 O St. NW, which dates back to 1796. The church's outreach today includes work with Jubilee Jobs, Bright Beginnings and the Salvation Army Grate Patrol.
Sometimes, the architectural hoopla of the house tour can overshadow "that genesis, those roots, of supporting the community," says C.C. Cristakos, the event's media relations chair. Over its 85 years, the tour has raised "hundreds of thousands of dollars" for St. John's missions, she says.
Scott and Jill Altman became involved with St. John's about six years ago, when they moved to Georgetown temporarily while searching for a permanent home in Washington. Scott Altman — a veteran of four NASA space flights who commanded the final two Hubble servicing missions — had just retired, and the couple wanted to try city living after raising their children in the suburbs. They quickly became "embedded" in Georgetown, Altman says.
Orchestrating this year's house tour, the couple "cast a very wide net" to find homeowners willing to participate, and "the community really responded," Altman says. In one case, he was able to connect with a fellow former Navy guy who shared his background with F-14s. (Back in the 1980s, Altman served as a stunt pilot for the movie "Top Gun.")
The Patrons Party, developed by longtime Georgetown resident Frida Burling about 13 years ago, helps supplement the event's fundraising. Burling, now age 100, is honored as "chair emerita" of that event, after playing an instrumental role with the house tour for over 50 years, Cristakos says.
Planning for the annual event — which draws visitors by busloads from places as far as New York — resumes immediately after the tour ends, says Cristakos.
The Georgetown House Tour takes place on Saturday from 11 a.m. to 5 p.m., allowing visitors to travel by foot at their own pace between the 10 different homes. Tickets include admission to an organ recital and tea held at St. John's between 2 and 5 p.m. Ticket holders also will be entered into a raffle to win a dinner with Scott Altman. Tickets cost $50 per person, or $40 per person in a group of 10 or more. Learn more at georgetownhousetour.com.
This article appears in The Georgetown Current newspaper.