Anne Geddes Unveils Portraits of Survivors of Meningoccal Disease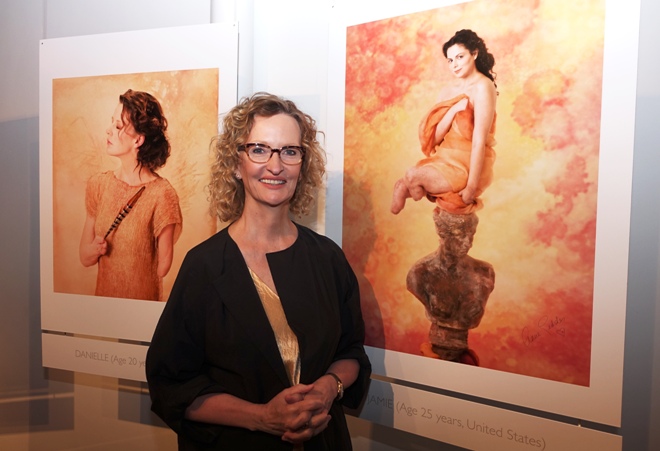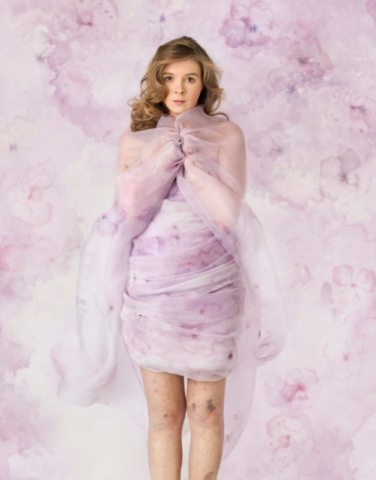 "My career has been about capturing the innocence and vulnerablity of youth," explained world-renowned photographer and children's advocate, Anne Geddes.
At the Toolbox Art Gallery in Dupont Circle Wednesday evening for the the first U.S. exhibition of Protecting Our Tomorrows: Portraits of Meningcoccal Disease, Geddes introduced her portraits of 15 survivors of meningcoccal disease.
Best known for whimsical and captivating images of newborns, the Australian-born photographer shared how this project has been the most meaningful of her 30-year career. "When my two daughters were under five, we were living in Aukland, New Zealand, and there was an outbreak of meningcoccal disease."
Having witnessed first-hand the sudden and often deadly impact of this bacterial infection made Geddes passionate about raising public awareness of a preventable disease and "empowering parents to protect their children."
An aggressive, fast-acting illness that can cause death within 24-48 hours, the disease most often affects children and teenagers. While four strains of the disease are included in routine childhood vaccinations, the B strain is not. With initial symptoms that mimic cold and flu, warning signs are a stiff neck, sensitivity to light and a rash. "Recognize the symptoms, act quickly and decisively, and check with your doctor," advised Geddes.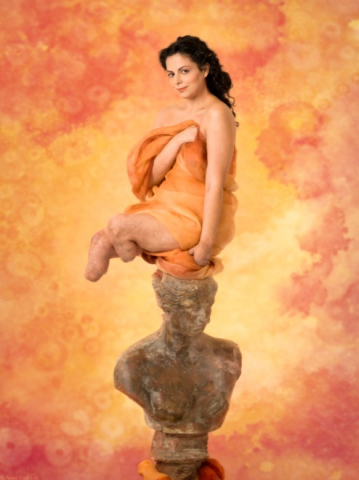 There are 1,200 cases a year in the US, with a fatality rate of 10-14 percent, and up to 20 percent of the survivors suffer serious life-long consequences, including deafness, brain damage, or limb loss.
Janet Neglia, Associate Director of Medical Services at Princeton University discussed the various strains of the disease, how quickly it can spread on a college campus, and how, through the coordinated efforts of faculty and students, the B vaccine was administered to 98% of students in 2013 following an outbreak at the university.
A global project in partnership with Novartis Vaccines took Geddes across the globe - Australia, Canada, Brazil, Germany, Ireland, Spain, the United Kingdom and the United States - to meet and photograph 15 meningococcal disease survivors and their families.
Speaking at the show were two survivors, Kate Healy and Jamie Schanbaum, both of whom are regally represented in this collection of Geddes photographs.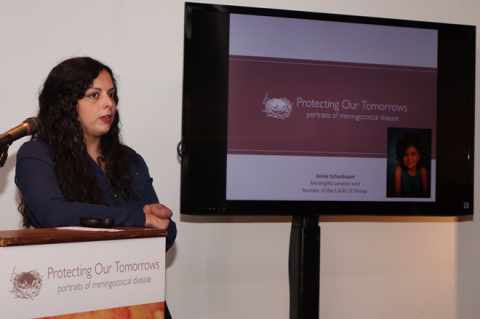 "I'm lucky to part of this because it made me feel beautiful," Healy told the invited guests. She contracted meningcoccal disease five days after returning from being a counselor at summer camp. She spent months recovering and was left with dark purple scars on her legs.
Schanbaum, a 20-year old college sophmore, was rushed to the hospital with what she thought as an asthma attack. Two days later she learned she had contracted menningcoccal septicemia and over the next seven months lost both legs below the knees, fingers on both hands and multiple skin grafts. She has since graduated and is a paralympic cyclist.
Protecting Our Tomorrows by Anne Geddes is available for free, exclusively on iBooks at iTunes.com/ProtectingOurTomorrows.