Anne Dickerson: More Than 15 Minute's Fame
Top D.C. journos, authors and VIPs celebrated one of their secret weapons Friday at the gloriously renovated Cosmos Club.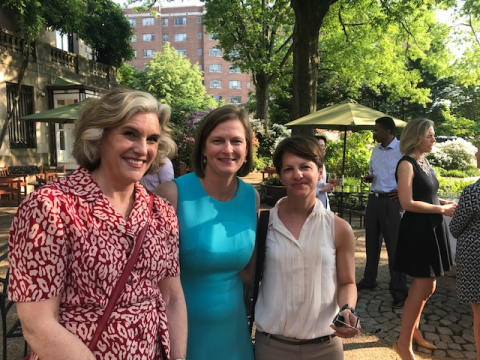 Anne Dickerson, founder of 15 Minutes Group, was surrounded by friends and fans to announce that she'll be advising clients from New York starting this summer, joining husband John Dickerson in the Big Apple where he now co-anchors CBS This Morning. The glittery crowd included NBC's Pete Williams, former HUD secretary Shaun Donovan, journalist-author Claire Shipman, literary-agent-to-the-stars Rafe Sagelyn, author and Atlantic writer Amanda Ripley, Political Gabfest co-creator David Plotz, Future Tense's Andres Martinez, Internews's Jennifer Cobb, authors Dan Pink and Sally Mott Freeman as well as Susan Farrell of IHS Markit.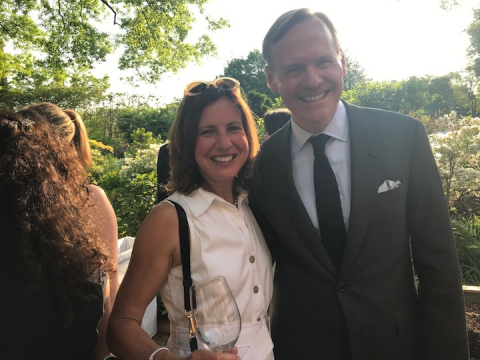 Said John, who fell for Anne when they were students at UVA: "As I became a writer, the one person I talked to about my ideas and how to make them sharper and how to hone them and what I was really trying to say – was Anne. And so I was kind of the first client," he said to laughter.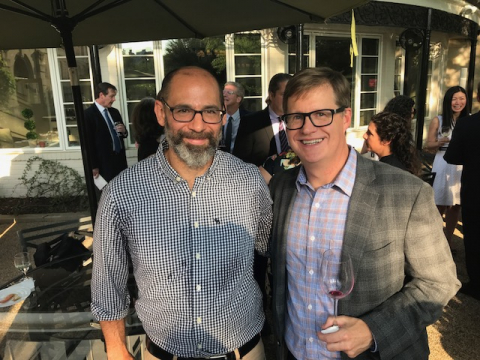 "The rates were a little steep, but I've been a client for a very long time and it's also why I'm such a booster, because I know how all of you work so hard on your ideas and pace around late at night when no one's up trying to figure out exactly what you're trying to say, and then you birth something into the world. And then it's like what Upton Sinclair said about The Jungle. He said he aimed for people's hearts but he hit them in the stomach," he continued.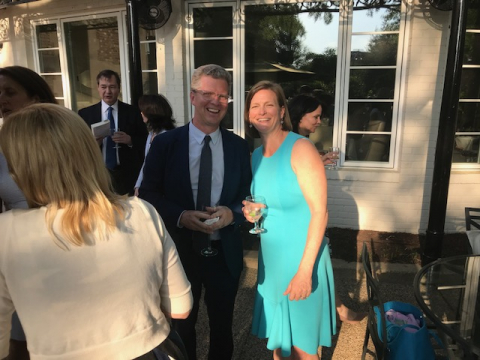 "You do something and you pitch it and then people misunderstand. So somebody who can help you communicate the way you want to and in a way that's true to your heart and true to your work – that's the key for those of us who work with ideas and who spend so much lonely time trying to get those ideas right – it's so important. So I'm not just her husband, I'm also her client."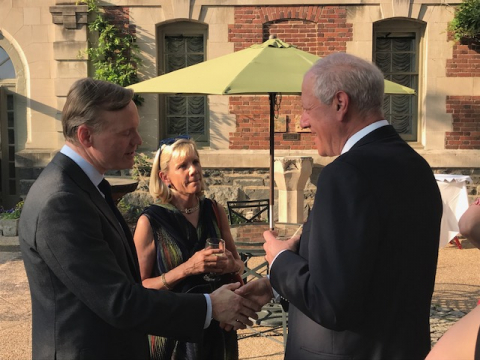 Anne described 15 Minutes Group's first assignment. Hired by the United Nations, the team dove in. "We did a dissertation on what makes the perfect soundbite. We did flow charts on how to structure the right answer. We did all this deep work because we said, 'There's no way we're going to be one of those shallow media training firms.' So we did a session with the UN client. We were so pleased with ourselves. We felt like we delivered all this deep information. And at the end of it, he let out this big sigh, and he said, 'Aren't you going to tell me what shirt to wear?'"
Over the last 15 years the firm has worked with clients like the Brookings Institution, the Council on Foreign Relations, and Carnegie Endowment, helping them be clear and more confident in their media appearances.
In recent blogposts Anne and the team noted former FBI director James Comey for his skilled interiews to promote his book, A Higher Loyalty. As any media observer knows, it's not easy to communicate clearly and sucinctly. You need to "distill your thinking and keep distilling," Anne writes. "Answer the hard questions and the sound bite will come to you, clear, potent and concentrated. Like a shot of Tito's Vodka."