And The Winners Are ...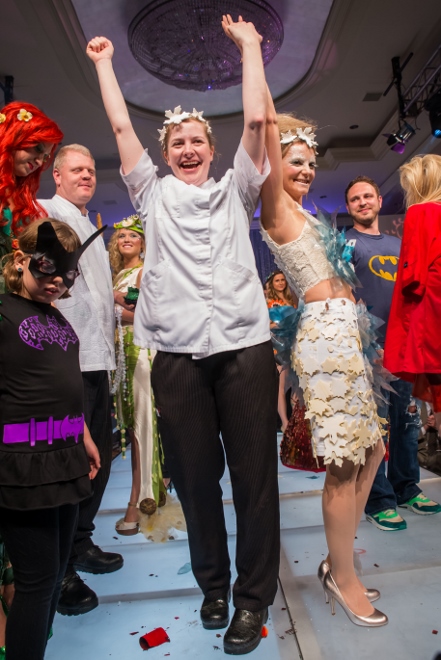 Judges declared Pastry Chef Caitlin Dysart of 2941 restaurant and her model Anastasia Matsiushenka winners of the best chocolate fashion costume at the Heart of America Foundation's Charity In Chocolate gala at the Oriental Mandarin Hotel Friday night.
Dysart is no stranger to honors. In April, she was one of the 50 pastry chefs in the U.S. nominated for FOOD & WINE Magazine's The People's Best New Pastry Chef Award.
Thirteen restaurant chefs and models participated in the runway competition. Dysart won with her costume creation of a Snow Queen made with chocolate. Her restaurant is in Falls Church.
More than 800 guests attended Charity In Chocolate, where booth after booth showcased the offerings of more than 56 restaurants, which included chocolate desserts, entrees of every kind, specialty liquors and other culinary items.
There was a distinct display of food from Italy to celebrate 2013 -- the official Year of Italian Culture in the United States. Italian Ambassador Claudio Bisogniero and Mrs. Bisogniero were honorary co-chairs of the gala.
The Heart of America Foundation is a national nonprofit headquartered in Washington and promotes volunteer service and literacy.
The special displays of Italian-themed food were huge hits at the event. Participating were Café Milano's pastry chef Antonio Lisbino; Dolcezza gelateria; Graffiatos' executive chef/owner Mike Isabella; and Sapore Oil & Vinegar.
One over-the-top happy attendee was Sicily-born Joe Farruggio, owner of il Canale Ristorante and Pizzeria Napoletana in Georgetown, whose lucky ticket won him a Tuscany vacation to the quaint Italian villa of La Bandita Townhouse in Pienza, a town in central Italy. In the winning package, Farruggio also gets a chance to visit the Perugina Chocolate School to acquire some hands-on knowledge of how those master chocolatiers create their incomparable sweets.
In a draw viewed by the 800 guests, the Italian Ambassador picked the winning ticket from a revolving cage on stage that contained several hundred raffle stubs. Also included in the prize was six bottles of wine chosen by the Italian ambassador himself.