ANCs ask for delay in Campus Plan hearing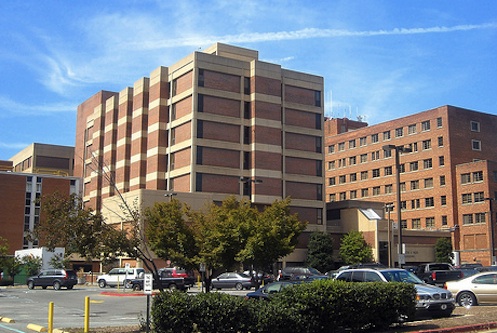 Neighborhood organizations and two Advisory Neighborhood Commissions -- supported by Councilmembers Jack Evans (Ward 2) and Mary Cheh (Ward 3) -- are asking the D.C. Zoning Commission to postpone the community's scheduled testimony during Thursday's highly anticipated initial hearing on Georgetown University's proposed expansion plans until District officials complete their analysis of new information recently released by the University.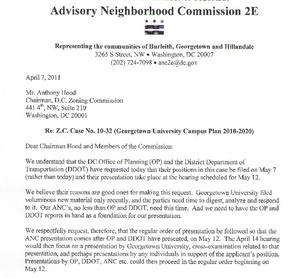 After late-breaking changes in the University's proposal, District officials in the Office of Planning (OP) announced they would file a revised analysis in early May. The Citizens Association of Georgetown, Georgetown's ANC and ANC 3D, (representing AU Park, Foxhall, Kent, New Mexico/Cathedral, Palisades, Spring Valley and Wesley Heights), jointly filed a request asking for an extension on filing their response until the planners' response is public.
"Georgetown University filed voluminous new material only recently, and the parties need time to digest, analyze and respond to it," said a letter addressed to Zoning Commission Chairman Anthony Hood signed by Georgetown ANC Chairman Ron Lewis on behalf of ANC 2E and 3D. "We need to have the OP and the DDOT reports in hand as the foundation for our presentation," the letter said.
The letter requests that testimony by District planning and transportation officials May 12 be followed by that of ANCs and community representatives.
"The community needs a full and fair opportunity to present its views," said Councilmember Cheh. "If the Office of Planning needs more time to present its findings, the community representatives should be able to see what those findings are [before testifying]."
"I fully support the ANC's request," said Councilmember Evans.