ANC Reaches Agreement with Domino's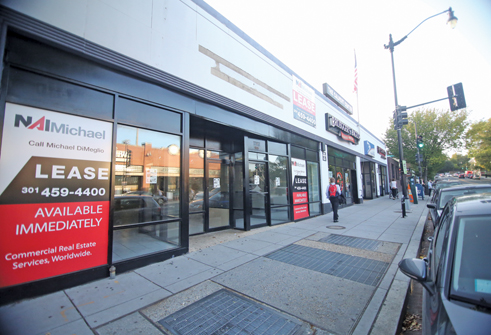 By Grace BirdCurrent Staff WriterPlans to open a Domino's in Glover Park advanced this month when Advisory Neighborhood Commission 3B (Glover Park, Cathedral Heights) conditionally supported the restaurant's zoning application.Domino's has proposed to move into part of the Calvert Center at 2330 Wisconsin Ave. NW, a site that has a land-use designation requiring fast-food or food-delivery establishments to secure special exception approval from the Board of Zoning Adjustment. Domino's is slated to present to the zoning panel Dec. 20.The planned Glover Park Domino's is slated to replace a Georgetown location at 3255 Prospect St. NW, a property now slated for redevelopment. The new Wisconsin Avenue restaurant will include dine-in, carryout and delivery service, and company officials say it will open in late spring.While some residents expressed dismay that another fast-food establishment might come to Glover Park — 122 residents signed a petition in opposition of the restaurant last month — ANC 3B members said there was little to be done aside from forging an agreement with Domino's. Chipotle, which operates a few doors from the proposed Domino's, received a similar zoning exception several years ago."We felt we did not have a leg to stand on, making a total opposition, and that we were much better off negotiating our own conditions, working out our own relationship with Domino's, and taking it from there," ANC 3B chair Jackie Blumenthal told residents at the commission's Nov. 2 meeting.Blumenthal said that Glover Park's rental rates deter retailers from moving to the neighborhood, resulting in a string of empty storefronts along its Wisconsin Avenue thoroughfare. Small businesses often struggle to stay afloat in Glover Park, Blumenthal said, adding that half of the Calvert Center is still vacant — and its owners are having some difficulty filling it."We don't really think that that space is going to be filled by anything else that's going to be much better," Blumenthal said.ANC 3B offered support based on an agreement with Domino's with various operating conditions.According to the agreement, Domino's will direct its delivery drivers to park in the rear lot until 10:30 p.m., after which drivers will be use the parking spaces in front of the store on Wisconsin Avenue; require drivers to turn off truck engines and refrigeration units during store deliveries to minimize noise levels; keep the garbage area clean and train employees in trash management; install large trash cans outside of the store and empty them three times a day as part of opening, pre-dinner and closing checklists; limit company signs to one in alignment with current signage at on the rear side of the Calvert Center on 37th Street NW; and work to install a mirror at the entrance to the parking lot from 37th Street.While Blumenthal acknowledged residents' concerns about late hours of operation — the chain typically stays open until 2 a.m. on weekdays and 3 a.m. on weekends — she conceded that this was its business model and little could be done."I feel fairly confident that at least I know we can reach out and get … any problem solved," Blumenthal said.
This article appears in the Nov. 15 issue of The Georgetown Current newspaper.