ANC Praises DDOT for O & P Street Restoration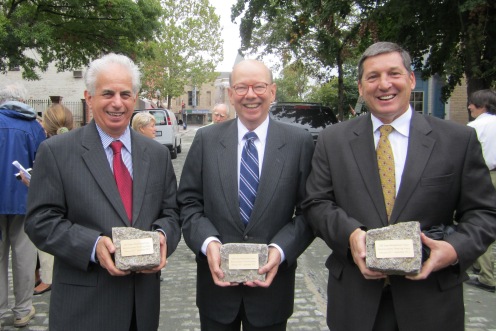 The District Department of Transportation's historic restoration of the old streetcar tracks and pavers on O & P Streets was lavishly praised on Wednesday by Georgetown Advisory Neighborhood Commissioner 2E, both for the final result and for the way the work was executed, particularly for the close working relationship with the community.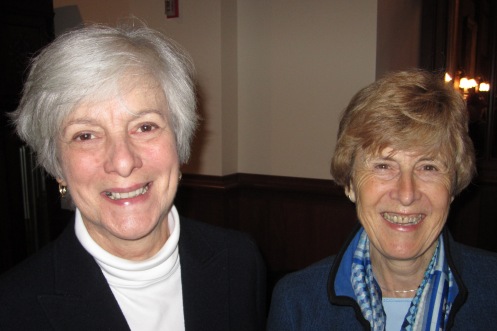 The is a "model of rehabilitation and restoration," said Commissioner Tom Birch, reading from the resolution endorsing the Citizens Association of Georgetown's nomination of DDOT for the Mayor's 2013 historic preservation award. "DDOT was continuously cooperative with the community [setting] the highest standard for a public works project," he added.
Pamla Moore, chair of the CAG historic preservation committee, asked the ANC to support the DDOT nomination, which it did unanimously.
Other Commissioner was equally positive. "This is not hype," said Jeff Jones. "DDOT deserves this award, from the management level to those who put in the pavers." Ed Solomon, a small business owner on P Street, said that DDOT was "very sensitive to businesses…adjusting work times" to minimize the disruptions. ANC 2E Chair Ron Lewis stressed the historical accuracy and detail of the final result. DDOT's staff and contractor walked the site with the members of the Old Georgetown Board discussing "brick-by-brick" how to deal with curb cuts, storm drains and sidewalks, "really listening" so that when "we looked at the detailed working drawings, it was there."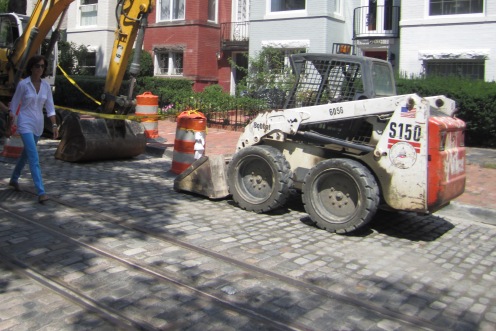 Solomon closed the discussion with the observation that because the tracks look good enough to use, he has had to answer questions about when are the streetcars coming back, that it won't be "anytime soon."
The restoration work was completed in September and was marked with a ribbon-cutting ceremony led by Mayor Vincent Gray and Ward 2 Councilmember Jack Evans.
Note: This meeting was on a Wednesday, not the usual Monday, postponed because of Hurricane Sandy. The November ANC meeting will be on the Georgetown University campus to mark the agreement on the new campus plan.