ANC Objects to Aspects of Ellington Renovations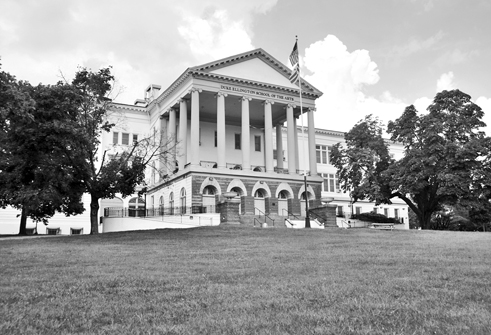 By Graham VyseCurrent Staff Writer
Proposed modernizations to the Duke Ellington School of the Arts are facing opposition from the Georgetown/Burleith advisory neighborhood commission.
At their meeting last Thursday, commissioners offered support for large portions of the planned $80 million upgrade for the 1897 school building, but voted unanimously to voice "serious concerns about several elements in the concept submission."
Commission chair Ron Lewis addressed more than 100 Ellington students, parents and educators who spilled out of the meeting room, explaining his panel's objections to current designs from Lance Bailey & Associates and cox graae + spack architects, contractors for the D.C. Department of General Services.
"As contemplated, there are elements we see here that are very inappropriate," he said.
The first major item of concern — a "nonstarter," according to Lewis — was a proposed rooftop gathering space commissioners said would produce amplified sound in the neighborhood. They argued that this space would be not only intrusive, but unnecessary.
"Numerous indoor performance and gathering spaces are provided in the proposed remodeling plan, and they should be abundantly sufficient," commissioners wrote in their resolution.
The commission also objected to proposed aesthetic changes to the building's exterior, including modern-looking orange paneling they fear would compromise Ellington's classical architectural style and historic character. "A more subtle palette would be advised," commissioners wrote.
Additionally, commissioners were concerned that new parking spaces on the school's sprawling front lawn would ruin its visual appeal, and that a Reservoir Road entrance for a proposed underground parking lot would exacerbate traffic congestion.
All of these issues will be conveyed to the U.S. Commission of Fine Arts and the D.C. Historic Preservation Review Board, which are slated to consider this project at their meetings on Jan. 16 and Jan. 23, respectively.
Mayor Vincent Gray, who had come to Thursday's commission meeting to tout his administration's accomplishments, told the crowd he is sure these issues will be resolved.
"Nothing is going to derail Ellington High School," the mayor said, pledging to intervene personally if necessary. "I want to make sure that we have the finest performing arts high school in the country, if not the world."
Commissioner Lewis said he was similarly confident the community could resolve its differences, though he suggested it could take time. He and his colleagues will undoubtedly be held to this promise by people like Ellington junior Kaila Carter, who made a point of approaching Lewis after the meeting. Carter said she told Lewis she wouldn't benefit directly from the modernization, but she hoped future students would get the top-notch facilities they deserve.
"I told him I'm counting on him," she said. "I'm putting my trust in him."
This article appears in the Dec. 25 issue of The Georgetown Current newspaper.