ANC Calls for Hearing on Confusing JP's Ownership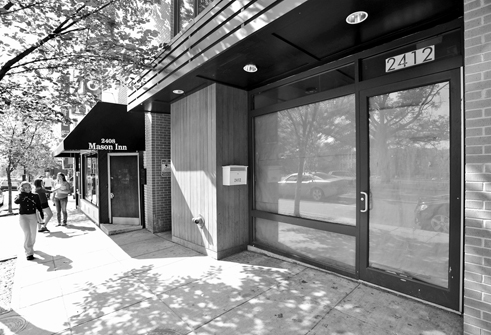 By Deirdre BannonCurrent Staff Writer
Who owns JP's? That's the big question Glover Park advisory neighborhood commissioners have about the shuttered strip club at 2412 Wisconsin Ave. that's making moves to reopen, and they've now asked the city alcohol board to hold a public hearing on the matter.
"There's been a lot of obfuscation," commissioner Jackie Blumenthal said in an interview. She said her commission has seen various information about the JP's ownership structure that conflicts with applications filed with the Alcoholic Beverage Regulation Administration.
William Hager, spokesperson for the alcohol agency, said a licensing specialist is now reviewing the latest filings from Wisconsin Ventures LLC, the firm that claims ownership.
The agency has also asked Paul Kadlick, the most public representative for Wisconsin Ventures in recent months, to provide additional documentation that his firm did not include in a recent ownership transfer application, submitted in August.
Kadlick, at last week's neighborhood commission meeting, conceded that the ownership structure for JP's has been "convoluted" but that impending changes would clean up "someone else's mess."
He did not respond to The Current's request for comment, but at the meeting he stated with confidence that the alcohol board would approve the latest ownership transfer and that JP's would reopen this fall.
A few months ago, Kadlick claimed that he and another partner owned 90 percent of Wisconsin Ventures. But in a Sept. 12 letter to the alcohol agency, Kadlick stated that he is no longer a stakeholder, shareholder or managing member for that firm.
Then at the Sept. 16 neighborhood commission meeting, Kadlick showed up and introduced three individuals who he said are the club's new owners.
Commissioners said in their resolution that after "the series of actions, representations and misrepresentations" pertaining to the club's ownership, they've lost confidence that JP's will be managed appropriately. Many community members have voiced similar concerns.
Commissioners say they need to determine who's in charge at JP's, who's responsible financially and who will field community concerns. They want to have a point person from the club to help negotiate a voluntary agreement and deal with any problems that might arise.
At the meeting, Blumenthal told Kadlick: "You saying you have no financial ownership … doesn't solve our problems. We need to know who the owner is."
Commissioners voted unanimously that night to ask the city alcohol agency to step in and provide transparency on which individuals are seeking ownership of JP's, and to hold those applicants to the strict standards set by law.
Hager said there is no timeline for making that decision.
The club's ownership has a complicated history. Michael Papanicolas was the original owner of the liquor license for 2412 Wisconsin Ave., dating back years before the property became a strip club in 1986. After a fire shut down JP's in January 2008, that license was placed in safekeeping with the alcohol agency, essentially making it inactive.
In April 2011, the alcohol board approved a transfer of the inactive license from Papanicolas' BJ Enterprises to Brian Petrushka of Wisconsin Ventures.
When Petrushka failed to negotiate a lease with the landlord of 2412 Wisconsin Ave., he took on partners to help finance his bid.
Enter Kadlick, who along with partner Jake Akkus operate The Vice Group LLC.
In May of this year, Kadlick announced that he and Akkus owned 90 percent of Wisconsin Ventures, with Petrushka as a minority shareholder. Kadlick also claimed to have signed a lease with the landlord at 2412 Wisconsin Ave.
Neither the ownership transfer nor the lease documents were filed with the alcohol agency, according to the neighborhood commission.­
But on Aug. 13, a handwritten application with some names crossed out was submitted to the alcohol agency, seeking unspecified ownership changes between BJ Enterprises and Wisconsin Ventures. The document identifies Kadlick as the attorney/agent, and does not list Petrushka's name at all.
Two previously unmentioned names are listed on the application as president and vice president. Kadlick introduced these men at the neighborhood commission meeting last week, along with a third who was not identified by name in the August application.
Kadlick also said that Petrushka — who was present at the meeting but did not comment — had remained on board as a shareholder.
This article appears in the Sept. 19 issue of The Georgetown Current newspaper.