ANC Battles Hotel Over Roof Deck Noise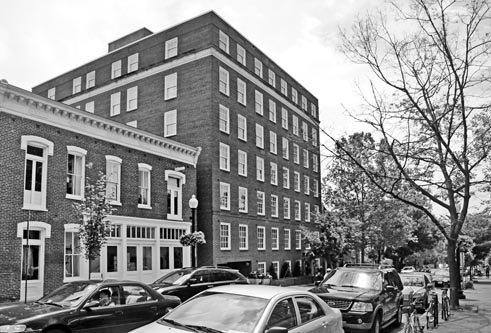 By Brady HoltCurrent Staff Writer
Complaints about noise from the roof deck on the newly upgraded Graham Georgetown Hotel have led the community's advisory neighborhood commission to protest its liquor license renewal.
The license is up for its two-year renewal, a review process that neighbors regularly use as leverage to address grievances.
In the case of the Graham — the new boutique hotel that's replaced the former Hotel Monticello at 1075 Thomas Jefferson St. — the neighborhood commission asked hotel representatives last week to remove the sound system from its roof deck.
Commissioners say the music is audible from homes more than a block away, on N Street, and that the loud music also encourages people to talk louder to be heard. The views from the roof deck are so appealing that the spot would be popular even without music, commissioners said.
"Right now you have the hottest ticket in Georgetown," commissioner Tom Birch told hotel operators. "It's not like we have a lot of rooftop bars operating in Georgetown."
Freddie Wyatt, the hotel's business development director, responded that the hotel installed a new, more sophisticated sound system soon after opening. The "localized" speakers prevent sound from carrying, he said.
"We've operated for the last week without a problem. We have the brand-new systems in, and we don't think we should have to pull them back out," said Wyatt.
Birch noted that the commission recently negotiated with the new Noodles & Co. restaurant that's opening at 1825 Wisconsin Ave. to have no amplified sound on its rooftop seating area, because it's so difficult to prevent sound from affecting nearby residents. He added that problems with the Graham persisted despite the hotel's efforts to improve the sound system.
"I appreciate the fact, gentlemen … that you came up with a plan to ameliorate the situation," said Birch. "I'm afraid it's not perfect, and my suggestion to you is to make it extra-perfect. I would guarantee that your customers are not going to come up and say, 'What's going on?'" if there are no speakers on the roof, he said.
Wyatt said the hotel would like to work with an N Street neighbor who complained to Birch, but commissioners said the issue is too widespread for a localized fix. They voted unanimously to protest the license pending an agreement to remove the speakers.
Hotel representatives did not directly answer commissioners' questions about why the speaker system was valuable to their operations, and they declined to comment after the meeting.
Commissioner Bill Starrels, whose district includes the Graham, said yesterday that he hopes to meet with hotel representatives "in the near future" about the issue.
This article appears in the June 12 issue of The Georgetown Current newspaper.