ANC 2E to See Turnover With Veterans' Departures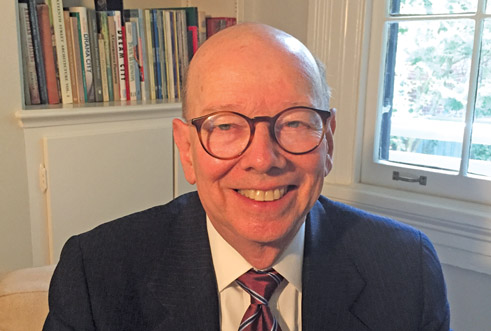 By Brady HoltCurrent Staff Writer
Georgetown's advisory neighborhood commission will see a shakeup next year, as half of ANC 2E's eight members won't be seeking re-election in November.
Meanwhile, one new member just joined the commission last month, another is just finishing her first two-year term, and another is facing a contested re-election bid.
"It will certainly be different," said Ron Lewis, who is stepping down after 10 years representing single-member district 2E02 in northern Georgetown and serving eight years as the ANC 2E chair. But he said all departing commissioners have identified excellent candidates to replace them.
"The people who have stepped up to run for those seats are all very familiar with how the ANC operates," he said. "So I have no qualms that folks with their experience and approach to community life will do anything other than be very good commissioners."
Besides Lewis, the commissioners stepping down are Tom Birch, who has represented 2E06 in eastern Georgetown for 14 of the last 16 years; Jeff Jones, who is in his third two-year term in 2E03 in central Georgetown; and Reed Howard, a Georgetown University student who joined the commission early last year in one of the campus's two districts. Kendyl Clausen, the second student commissioner, stepped down earlier this summer and has been replaced by Mara Goldman.
The student commissioners frequently turn over after graduating, but Lewis, Birch and Jones each told The Current that they were ready to dedicate more time to family — and themselves. "It seems that the longer I have served the more my time is required of matters ANC-related," Birch wrote in an email. "I look forward to stepping away from that while continuing to take a less formal role in the community."
ANC 2E, which includes Burleith and Hillandale as well as Georgetown, weighs in on matters ranging from alcohol license applications to the Georgetown University campus plan to the size of local trash cans. A chief issue is the rigorous review of Old Georgetown Board applications, which are required for a host of construction projects within the neighborhood's federally protected historic district. Each unpaid commissioner represents about 2,000 residents, and is also responsible for constituent-service work.
The outgoing commissioners described a carefully cultivated collegiality among ANC 2E members, and also a level of respectability their commission has forged with various government agencies and other key community stakeholders. Most candidates for ANC 2E seats have worked with the commission either through the Citizens Association of Georgetown or the community's partnership with Georgetown University.
Longtime Georgetown resident James Wilcox is running unopposed to replace Birch. He told The Current that he has years of experience with the citizens association, as well as the Georgetown Business Association, a D.C. Department of Transportation parking task force and a DC Water working group.
Joe Gibbons, running unopposed for Lewis' seat, is a relative newcomer to the neighborhood — he attended college there in the 1980s but moved back from Chicago in 2013. He quickly became active with the citizens association, with a focus on historic preservation issues that include the Yarrow Mamout site at 3324 Dent Place NW and the Alexander Memorial Baptist Church development at 2709 N St. NW.
Meanwhile, Greg Miller and Rick Murphy are competing for Jones' old seat.
Murphy — who was praised by Jones and several of his colleagues — has recently served as ANC 2E's pro bono counsel, working on issues with airplane noise and sewers, in addition to landlord issues in Georgetown University's community partnership.
Miller, who has also worked on the university-community partnership, said he can bring a unique perspective to ANC 2E as a recent Georgetown University alumnus who now works at the school. He told The Current he was "inspired by the ANC's active role" in the Georgetown Business Improvement District's "Georgetown 2028" plan and wants to be involved.
ANC 2E's other contested race, for 2E05 in southern Georgetown, pits the longest-serving commissioner against a challenger who says fresh perspectives are needed.
Bill Starrels, who has represented the single-member district since 2000, is facing Lisa Palmer, who doesn't have the typical resume of an ANC 2E candidate. Starrels said that particularly given the departures of Lewis, Birch and Jones, he would be a valuable asset next year.
"With those three leaving, we have several years of experience leaving with them," he said. "Georgetown is a very special community, a very important community, and experience matters. I've been doing this for a while."
Palmer hasn't been active on the Citizens Association of Georgetown or other leading community organizations. But she said she has been meeting with voters who are instead enthusiastic about her background as the mother of young children who has worked for various prominent nonprofits.
"A fresh look brings new perspectives to deeply entrenched issues," Palmer wrote in an email. "A fresh look also brings a new personality and style to the negotiation table. There has been no choice in the ANC race for many years."
The remaining candidates, all unopposed, are six-term incumbent Ed Solomon in Burleith; one-term incumbent Monica Roache in northeast Georgetown; Goldman, the newly elected student commissioner; and student candidate Zac Schroepfer. Both students have been active in the university-community partnership.
"All in all, I think we bring some experience to take up some of the loss of a great deal of body of knowledge from three of the best ANC commissioners I've worked with," said Solomon.
Meanwhile, nearby commissions are seeing fewer changes. To the north, the five incumbents in ANC 3B in Glover Park/Cathedral Heights are running unopposed. To the west, the incumbent ANC 3D commissioners near Georgetown are also running unopposed, with the exception of a Wesley Heights district that also includes northern Foxhall Village, where Chuck Elkins is running unopposed to replace Spence Spencer.