Alley remedy may be on the way at long last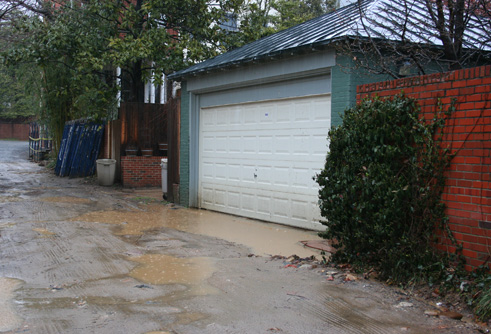 By Carol Buckley . .
Current Staff Writer
Almost-spring showers may be a sign of some wonderful things to come, but for some Georgetown residents, rain presages a less pleasant scenario than crocuses and daffodils: a flooded, pockmarked, muddy alley that runs behind about 20 homes on 31st and 32nd streets south of R Street.
"My family has owned our property since 1965, and we cannot recall the alley ever having been maintained," resident Joan Larrea wrote to The Current.
On a recent rainy afternoon, that neglect was obvious. Mud had nearly erased what asphalt remained, and pools both small and very large marked the lane's ruts and depressions.
Residents' years of complaints may finally bear fruit: A District Department of Transportation spokesperson said re-grading and repaving could happen in 60 to 90 days -- as residents also heard recently -- but noted that a drainage issue could require collaboration with the city water authority beforehand.
"We are hoping we can complete [the upgrade] using local capital funds," said spokesperson John Lisle.
"I'll believe it when I see it happen. … I've been complaining for years," said neighbor Dale Curtis, surveying the muddy mess from beneath an umbrella last week. Curtis has owned his 32nd Street home since 1998.
Neighbors have periodically tried to take care of the matter themselves, grading their properties to prevent flooding of basements and garages. But some of those fixes have merely worsened the problem for other neighbors, said resident Corbin Harwood.
Harwood's own effort at mitigation -- adding pavers along the side of his home frequently used by pedestrians -- has been less than successful. A few months later, "already the pavers are sinking in mud," he said.
"It is shameful that it took so long to get this matter addressed," said advisory neighborhood commissioner Charles Eason, who recalled visiting the alley with a representative of then-Mayor Adrian Fenty two years ago.
Residents recalled other meetings with city officials over the years. The visitors would declare the spot to be one of the worst in the city, promise action -- and then nothing, residents said.
But they hope a meeting last week with city transportation officials, neighbors, a representative from Ward 2 D.C. Council member Jack Evans' office and Eason will be the last of its kind.
It's not just the flooded garages, muddy shoes and bumpy car rides that have troubled residents: The neglected alley has become a health and safety hazard.
Standing water turned to winter ice has caused falls and at least one sprained ankle, neighbors said. In the summer, the pools are breeding grounds for mosquitoes, and spilled trash and litter can float along for days and attract rodents, they added.
This article appears in the March 16 issue of The Georgetown Current newspaper.