Alka Dhillon's The OM Factor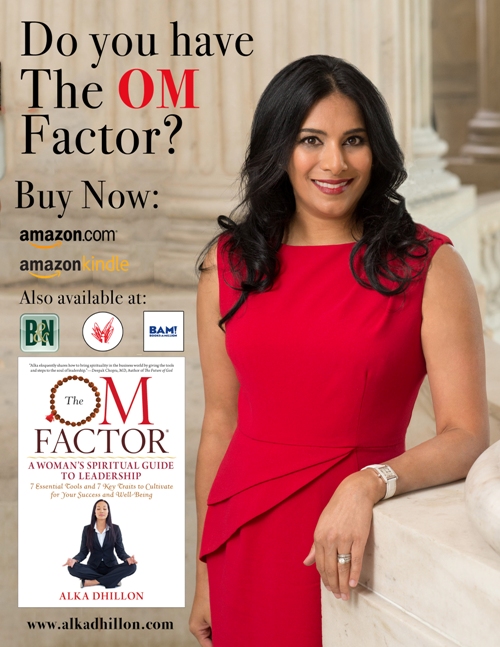 At a book party on Tuesday evening her friends celebrated Alka Dhillon's new book, The OM Factor: A Woman's Spiritual Guide to Leadership - 7 Essential Tools and 7 Key Traits to Cultivate for Your Success and Well-Being.
It is a book that shapes the benefits of meditation and other tools for use by women in their careers, and all aspects of their lives. I heard about this book from her sister, Manisha Bhaskar, whom I have worked with for the past ten years. In learning more about the book I decided it was a great gift for all the women in my life and something worth sharing with the readers of The Dish.
Dhillon writes "This art of balancing harmoniously all these roles and relationships, being holistic in our approach to our well-being, as well as being successful at whatever we do in the workplace and at home during most of our waking hours, is The OM Factor." She believes that individuals, and she included men in this, who have The OM Factor are able to deal with challenging situations as they arise. "They have learned to not react involuntarily to difficult situations but to intentionally respond to them," she writes. "These people flow."
For those who have never tried it Dhillon's book, complete with illustrations, removes the mystery from meditation and guides readers toward their own personal OM Factor. Unlike other books of advice for women in business, The OM Factor's methods can be applied on the spot — in the middle of a meeting that isn't going well, for example, or anytime anxiety strikes. It's like having a team of leadership coaches on call. Manisha has told me it has worked for her in some of the meetings we have had and I asked if that is because dealing with me can be stressful? She just laughed.
Dhillon, the CEO of Technalink, an Information Technology and Management consulting firm to both government and commercial clients in Metropolitan Washington, D.C. She is also a first generation Indian-American, grounded by her practice of meditation and yoga, physical and spiritual traditions that are thousands of years old.
Dhillon wrote The OM Factor as a way to teach others how to cultivate their own personal success and well-being through the tools and techniques she utilizes in her daily life. She also recognizes that encouraging the OM Factor in others is an important part of finding it in oneself.
The 7 Essential Tools Dhillon describes in the book in addition to simplifying meditation, are useful in coping with stressful situations and negative emotions that arise during the day: such as feeling overwhelmed, inadequate or just anxious. But the book is clearly not just a collection of feel-good slogans and handholding affirmations. It's a user-friendly program of techniques that will help anyone, but especially women, be better at their jobs, more productive in their work, and happier in their personal lives.
Alka Dhillon is an impressive and successful individual. She received the 2012 BRAVA! Women Business Achievement Award; the Top 100 Women Leaders in STEM award; the 2013 Locally Grown honor from Network for Teaching Entrepreneurship, and the Abe Venable Legacy Award for Lifetime Achievement from the U.S. Department of Commerce's Minority Business Agency. She holds B.A. degrees in economics and Spanish from the University of Virginia. She contributesto The Huffington Post and blogs at The Spiritual CEO. So reading about her formula for a more successful life could be helpful to so many others.