Alice Waters at the Sunday Market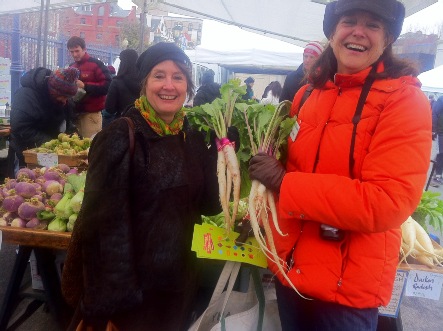 I get so many benefits from visiting my local Farmers' Market. First, are the people: Today, I bumped into my good friend, Ann Yonkers, the Co-Founder of Fresh Farm Markets, and with her, Alice Waters, Chef, Author, and Pioneer for a "Fresh, Clean, and Fair" Food Economy. Ms. Waters is in Washington, D.C. for several events benefiting Martha's Table and D.C. Central Kitchen.
When Fresh Farm Market opened about 11 years ago, it improved the quality of life for me and everyone who visits. The Dupont Circle Farmers' Market is one of the few in the area open year-round.
Every Sunday morning in Fall and Winter, I'm there tasting which apple and pear variety is the best that week. Today "Pink Lady" got first prize. To me, it's the epitome of a perfect apple: the ideal combination of crispiness, sweetness and tartness. But other weeks, I may prefer another variety.
I will be eating an apple-a-day this week with just a tad of Pimento Cheese Spread, bought from Keswick Creamery.
Today, I also picked up some carrots and parsnips, surprisingly tender and sweet right now. I love to puree them together to create "Mashed Carrots and Parsnips with Nutmeg."
I couldn't resist Toigo Orchard's Bourbon Peaches, picked perfectly ripe from their own orchards and flavored with, um, bourbon. DARN GOOD! I have many jars set aside to give as gifts to my grateful friends who don't have access to my market. But I always have one set aside pour moi!
Tasting is one of my favorite parts of visiting the market; and that's true for adults and children alike. When I teach children at the Capital Harvest on the Plaza (C.H.O.P.) Farmers' Market, it opens a whole new taste experience for them. It's amazing how children can enjoy the differences in the apples: some are sweeter, others more tart, some are crunchier, others softer, there are even different colors outside and in! Children are very observant. One week, a child blurted out that the butternut squash looked like a peanut. Well, I had to agree… a giant peanut, anyway! After a visit to the market, I can confidently say those children go back to school and their homes begging for fruits and vegetables. Studies verify all it takes is positive exposure for children to prefer healthy food.
From my last market visit, I'm already stocked with onions, garlic, greens, and orchids. So I'm pleased to be able to enjoy another week of delicious, locally-grown fruits and vegetables. Nothing makes it easier – and better for you – than buying locally. The fruits and vegetables are picked at peak ripeness, ensuring maximum flavor and nutritional value. You're helping save the environment too!