Alessi is more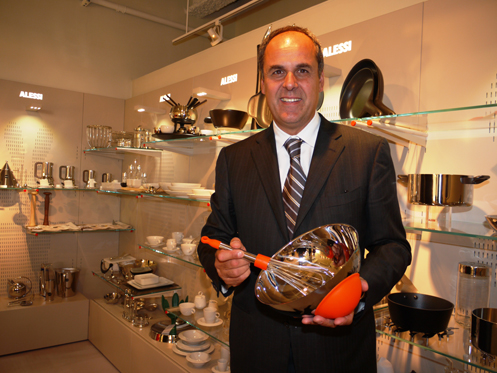 Granted, the copper gets polished once in a blue moon, but the only cookware I've used for 20 years is Alessi's La Cintura di Orione. Although I may have been tempted, no new saucepan -- nary a pot -- has taken a place in my kitchen since the Alessi set entered. They wouldn't dare. How could cookware be so permanent? Created by Richard Sapper in collaboration with leading Italian and French chefs that took 10 years to complete, each piece is exquisitely suited to its purpose. May I explain? The stock pot, all stainless because the conductive properties of copper are not needed to cook pasta, but the oval casserole (so beautiful it's on display as functional sculpture in my dining room) is heavy cast iron with a snug fitted lid, perfect for slow cooking and braising. Of course, my Alessi collection only begins here, but these are the objects (along with Aldo Rossi's coffee press) that greet me every day.
When Alessi opened last week in Georgetown, the CEO, also the grandson of the company's founder, Alessio Alessi, sat down with The Georgetown Dish. No, we're not changing our name to The Georgetown Pot. But we did swoon. "Design is not a choice for me," said Alessi. "It's in the DNA." When grandpa Giovanni began creating small objects of metal and wood in the Italian Alps in 1921, it wasn't long before he joined forces with Alfonso Bialetti, the inventor of the 1933 Moka Express, the same iconic stove-top coffee-maker we use today, and which Alessi designer Richard Sapper turned into, what is for many, the quintessential Alessi object.
Staying true to its artisan roots, the company's philosophy remains one of a collective of designers, Alessi explained, "the best iconic design with a little complement of art." Today, most of the important work is done outside the company, an international talent agency, with its rock stars, a veritable who's who of 20thcentury design legends. You know the work, maybe not the names: Michael Graves (colorful bird tea kettle), Ettore Sottsass (5070 condiment set), Achille Castiglioni (fruit bowl colander and first cutlery design), Richard Sapper (espresso coffee-maker and La Cintura di Orione), Philippe Starck (lemon juicer pictured with family members below), Aldo Rossi (coffee-makers and watches), and Alessandro Mendini (Anna series of corkscrews). "A workshop for the working of brass and nickel silver plates, with foundry" read the sign over the Alessi stand at the first Milan Trade Fairs in the 1920's. In those early years, they were artisans on commission, but soon were manufacturing popular kitchen and table products, including coffee services, trays, and cruet sets. In 1930, after studying industrial design, Carlo, Giovanni's son, joined the company and was responsible for most of the design output until 1945. Ettore, Carlo's brother, perfected the cold-press technique for which the company is famous, and started inviting architects in to create objects for the catering business, and so, the era of collaboration between designers and industry specialists began, and which continues till this day.
In the 50's and 60's Alessi increased its exports, and in the 70's, current managing director (and "godfather of Italian product design"), Alberto, Alessio's older brother, fresh out of law school joined the company. Brother Michele studied mechanical engineering before joining, and when he did, the company research and production expanded into new and different metals. In 1980, Alessio joined the company to take over marketing.
The 1983 whistling teakettle designed by Richard Sapper, a first for the company, put Alessi on the international stage. After all, Alessi pointed out, "coffee drinking Italians really had no need for a machine to boil water." With an 'encyclopedia' of more than 2,000 objects from over 200 designers, it's best to visit an Alessi shop (especially the newest one in Cady's Alley) for a tour of the collection. Here's a sneak peek at several iconic pieces in the making.
The 2010 'Essentiel de Patisserie' collection is a series of pastry tools designed by matali crasset in collaboration with Parisian pastry chef, Pierre Herme. The four pieces consist of a multi-size cake plate, cul-de-poule (hen's uh, bottom) mixing bowl, double whisk that opens like a flower and spatula. The mixing bowl has a bump for beating egg whites, and doubles as a comfortable and sensual grip. A clever mix of materials (silicone, stainless steel and melamine) each suited to its task in pastry-making.
One of Paolo Cravedi's (Alessi USA's managing director) favorite new items is the 2009 Fiamma foldable book stand in stainless steel by Donato D'Urbino and Paolo Lomazzi. "In Italy, book stands are usually found in church." Cravedi explained. "We were looking for a way to capture the "flame" but in a wave-like shiny way for cookbooks or Playboy." Closed, it's an exquisite accordion-folded sculpture. "The Georgetown Book Answer"? Calm down everyone. We're sticking with The Georgetown Dish. For more information, visit Alessi D.C. at 3319A in Cady's Alley and at 202.298.0407.