Alcohol board snuffs out expansion plans by George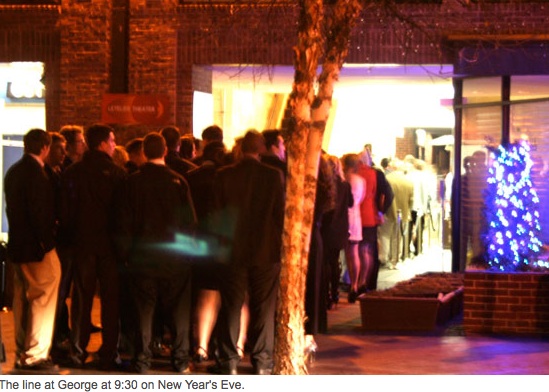 The District's Alcohol Beverage Control (ABC) board issued a stinging denial of a request by George, the busy Prospect St. nightspot, to expand its business by lifting occupancy limits and other restrictions.
The May 4 decision called George's petition "inappropriate based on the Petitioner's previous and current failures to comply with the ABC laws," saying that granting George's application would "adversely impact the peace, order and quiet of the neighborhood."
George sought to double its allowed occupancy to 200 persons. The club has generated news coverage for its popularity and occasional disruptions in the complex shared by Café Milano, Peacock Café and Morton's, as well as numerous residents.
In its strongly-worded ruling, the Board also questioned George's claim that it is a restaurant. "The facts elicited during the protest hearing also indicate that George may not be compliant with the definition of a restaurant," the decision stated. "The Board intends to further investigate this matter."
Four of five ABC Board members signed the decision. Charles Brodsky, the controversial chairman of the Board, recused himself at the recommendation of the Attorney General's office following an appearance at a November ANC meeting in which he spoke both as the alcohol chairman and on behalf of one of his businesses, The Nation's Triathlon, which was seeking street closures that require ANC approval.
ANC2E Alcohol Committee Co-Chair Bill Starrels praised the decision. "The teamwork between the ANC, CAG and neighbors with the help of our neighbor and attorney Tim Altemus paid off," he said. "This protest took a lot of time from many people. The team stayed focused and prevailed."
The D.C. Inspector General and the Attorney General's offices are looking into allegations of ethical violations by Brodsky, the Washington Examiner reported.
The two investigative bodies now join the Mayor's office, which has been examining charges that Brodsky reversed longstanding District policy in favor of a liquor wholesaler after it hired an attorney who is his friend.
Brodsky has generated concern across the city in his handling of alcohol issues. "Brodsky has been a disaster as a chair," said Councilmember Tommy Wells (Ward 6), who represents Capitol Hill and parts of downtown. "He has damaged our neighorhoods."
Councilmember Mary Cheh (Ward 3), a law professor, said Brodsky's appearance of conflict of interest could damage the Board's credibility. "Sometimes it is better to remove oneself from situations that generate so much public concern," she told The Georgetown Dish.