'Aging in place' initiatives gain ground in Georgetown, Cleveland Park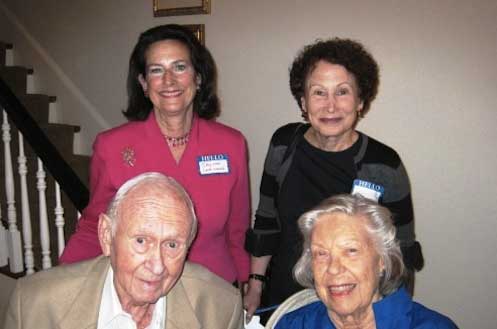 By Jackie Zubrzycki
Current Correspondent
As residents across the city embrace the concept of "aging in place," groups in Georgetown and Cleveland Park are positioned to join a growing number of neighborhood-based organizations that help them do so.
More than 100 Georgetown and Burleith residents have pledged to become members of Georgetown Village, while a survey gauging interest in a Cleveland Park Village received almost 380 replies, most of them overwhelmingly positive.
With more than 100 members committed, Georgetown Village has reached the benchmark for opening set by founder and chair Sharon Lockwood: It will begin operation sometime next year, with all residents who pledge by September 2011 qualifying for a reduced annual fee as founding members.
Lockwood, a former World Bank economist, emphasized that a high founding membership will allow the village to be financially secure and offer a wider array of services: "I don't want a glorified taxi service. … I want to run a fiscally sound village," she said.
Georgetown Village has already obtained office space and nonprofit status and raised $45,000. The group plans to offer referrals to vetted professionals like plumbers, free services such as transportation to appointments, and social activities like theater tickets -- a popular offering in Georgetown, Lockwood said.
The next step is to hire and train an executive director, which Lockwood said is a "tall order," as the employee needs to have experience with the aging, administrative experience and, ideally, a medical background. The executive director's duties will include coordinating a group of trained and insured volunteers, most of whom will come from the village's membership, according to Lockwood. "We don't need to go outside of our membership for volunteers at this point," she said. "We're going to have an embarrassment of riches."
In Cleveland Park, the pieces are just starting to be assembled. A positive response to this spring's survey convinced members of the Cleveland Park Citizens Association to move forward with the process of developing a village, which the organization says will take between 18 months and two years. Planning for the village began under the auspices of the association, but it will develop into an independent organization, likely run by an executive director in a model similar to Georgetown's. The Cleveland Park Village will also offer transportation and handyman services, referrals and reviews of professional services, and social activities.
Both Georgetown and Cleveland Park have drawn inspiration and support from other successful villages -- including the one on Capitol Hill, which was the first one in D.C., and the one in Boston's Beacon Hill, the nation's first. As Nana Rinehart, co-chair of Cleveland Park Citizens Association's village formation committee, commented, "There is a lot of willingness to share information and best practices and share support."
Rinehart also indicated that villages can do more than allow people to remain in longtime homes. "What stands out is the sense of widespread support. You have a sense that people want to contribute … to be able to live in the community, feel they're part of a community," she said. "There's a value to a village beyond the services provided."
Lockwood also had thoughts on why the village model is becoming such a widespread phenomenon. "It's clear to me that I will age," she said. "It's not if I need a village -- I want it there when I need a village. And if I want it there, I have to create it."
This article appears in the June 29 issue of The Georgetown Current newspaper.