Agency Tweaks Pennsylvania Avenue Bridge Rehabilitation Plan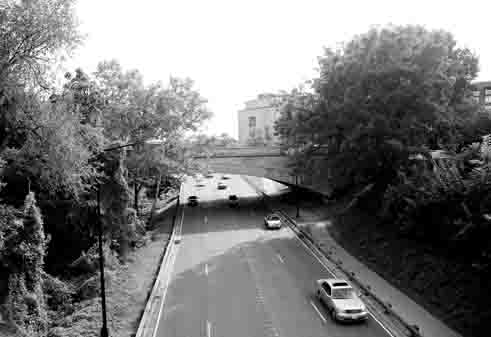 By Brady HoltCurrent Staff Writer
The D.C. Department of Transportation has tweaked its plans for handling the rehabilitation of Pennsylvania Avenue's bridge over Rock Creek, responding to community concerns about timing and detours.
Transportation officials will convert 26th Street to one-way northbound on a planned detour route to M Street, and they will award extra points to contract bidders who promise to complete the work more quickly.
The project is slated to begin this summer and last 15 months. Transportation officials said last year that for eight of those months, all westbound lanes on Pennsylvania would be closed. Plans still call for traffic to be detoured one block north to M Street via 26th, a narrow two-way street with one lane in each direction and parking that serves adjacent condo residents.
These plans sparked a debate between West End residents on one side of the bridge and Georgetown residents on the other.
Georgetowners wanted to maintain a southbound travel lane on 26th so that local M Street traffic wouldn't have to continue into Georgetown and make a U-turn to head east on Pennsylvania. Those in the West End preferred to keep a lane of parking and switch the road to one-way northbound to better handle Pennsylvania's traffic volume, while retaining at least one parking lane for neighbors.
After reviewing the issue, the Transportation Department sided with the West End. "This configuration will allow for two lanes of northbound travel which best accommodates the detoured westbound traffic from Pennsylvania Avenue," agency spokesperson Reggie Sanders wrote in an email to The Current.
Foggy Bottom/West End advisory neighborhood commissioners applauded the decision.
Keeping a southbound lane "would not only be a hardship for the nearby residents but also not logistically work well for the traffic, especially for the bus traffic," commission chair Patrick Kennedy said in an interview.
Commissioner Rebecca Coder, whose single-member district includes the affected block of 26th Street, wrote in an email that the latest plan is "welcome news."
"I am glad DDOT was so open to thinking through options with the community," she wrote. "It really represents a great example of how our neighborhood community process can result in a more effective outcome for a challenging project."
Georgetown neighborhood commission chair Ron Lewis, who announced the changes at his group's meeting last Monday, said the agency had persuaded him that a two-way 26th Street wouldn't work during the project. However, Lewis said the agency did promise to re-time the signals at Pennsylvania and M to accommodate the U-turning traffic. "They did listen, and they're on it," Lewis said at the meeting.
The Georgetown commission had also taken the lead in calling for the reduced closure duration, and Lewis praised the Transportation Department for the contract provision encouraging speedier work. "They were fairly confident that they could squeeze a little time off that," said Lewis.
Kennedy said that while West End residents would also appreciate a shorter period of construction, it shouldn't come in exchange for extra construction noise early in the morning — an issue that his commission will consider at a future meeting.
The Transportation Department has called the Pennsylvania Avenue bridge "structurally deficient," a Federal Highway Administration classification that means it has a serious defect. One section of the bridge dropped slightly after suffering fire damage, and chunks of concrete sometimes fall off its underside.
The project will include repaving the bridge and adjacent sections of the roadway and making cosmetic facade repairs, among other items.
This article appears in the Feb. 11 issue of The Georgetown Current newspaper.