Agency Picks New Vendor for Boathouse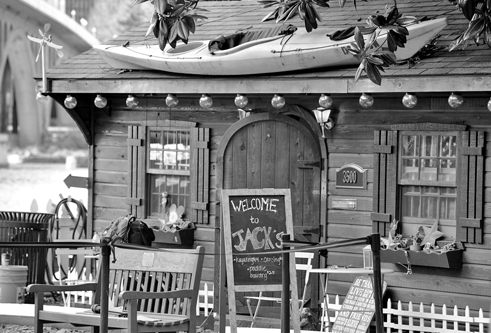 By Alix PianinCurrent Staff Writer
The National Park Service announced last week that it has chosen a new contractor to replace the popular Jack's Boathouse on the Georgetown waterfront, but Jack's owner Paul Simkin said his business isn't going anywhere and still plans to open this season.
In a news release Friday afternoon, the Park Service said it had selected B&G Outdoor Recreation Inc., a Massachusetts-based company, for a two-year temporary concession contract to provide non-motorized boat rental and storage out of the Rock Creek Park site Jack's Boathouse currently operates near the Key Bridge. B&G will have the option to extend the contract after its two years are up.
On Friday, Park Service deputy associate regional director Steve LeBel hand-delivered an eviction notice ordering Simkin to terminate occupancy by April 7.
But Simkin's attorney, Charles Camp, argues that the eviction and press announcement from the Park Service is in contempt of a court order he obtained from a judge on Feb. 19 that ordered the agency not to take any action against Jack's Boathouse until after March 31. Camp filed an emergency motion with the U.S. District Court for the District of Columbia on Sunday.
The dispute over Jack's Boathouse began in December, after the Park Service found that Simkin did not technically have a lease with the agency. Simkin had taken over Jack's Boathouse after his business partner — and son of the original owner — died about four years ago, but the lease did not automatically transfer in name over to Simkin, according to the Park Service.
In January, the agency invited vendors to bid for a contract to run the waterfront boat rental facility currently occupied by Jack's.
Over the past month, a panel of Park Service officials from different offices and regions reviewed the bids for the concessions contract, according to agency spokesperson Jenny Anzelmo-Sarles.
In the notice to vacate, regional director Stephen Whitesell said the Park Service is not in violation of the Feb. 19 court decision, as it is not proposing to take any action against Jack's until after March 31. But Camp argued that the letter of eviction counts as an action against Simkin and should be withdrawn, as should the agency's news release announcing the selection of a new vendor.
Anzelmo-Sarles said the Park Service does not believe it is in violation of any agreement, and that the motion is "unfounded."
Jack's Boathouse, located at 3500 K St., has provided boat rentals and storage since 1945. In 1985, D.C. transferred jurisdiction of certain Georgetown waterfront property — including the Jack's site — to the National Park Service. The rental business has since leased the property on a month-to-month basis from the Park Service — an unusual practice for the agency, which mostly allows vendors to operate on its land through concessions contracts.
The goal, said Anzelmo-Sarles, is to offer continuous and uninterrupted boat rentals and storage in Jack's location — a task for which B&G Outdoor Recreation will be ideal, she said. The vendor, also known as "Boating in Boston," operates six kayak, canoe, pedal and rowboat rentals in the Boston area, three of which are located in Massachusetts state parks.
B&G is a veteran-owned company with two full-time employees and 40 part-time employees, according to a written statement by B&G Outdoor Recreation president Michael Aghajanian, and it also promotes boating activities for people with disabilities.
But Simkin said the Park Service has "jumped the gun" with the new contract and eviction notice. A court battle with the agency could take years to sort out, he said, and in the meantime he plans to continue business as usual at Jack's. The facility reassembled its dock last weekend, has ordered new boats and is currently looking to expand from 27 employees to 32. "We are definitely opening," Simkin said. "It's unfortunate that the Park Service's shenanigans are still up."
Simkin said he plans to start operations at Jack's within the next couple of weeks.
He also questioned whether B&G would be able to handle the volume of visitors at the Georgetown waterfront site. According to its website, B&G now serves 20,000 customers at five locations, and has about 200 boats. Simkin estimates that Jack's Boathouse served around 72,000 visitors last year, and has more than 300 boats.
"The NPS is confident that B&G will provide a high quality experience to neighborhood users, Washingtonians and visitors to Rock Creek Park," Anzelmo-Sarles responded in an email.
Simkin did not bid on the Park Service's concessions contract because he said he was concerned that it would force him to waive any rights he may have to the property, and that the process would force him to bid against his own business.
A judge is expected to review the motion and any responses from the Park Service on Wednesday
This article appears in the March 6 issue of The Georgetown Current newspaper.