Agency Outlines Stormwater Plans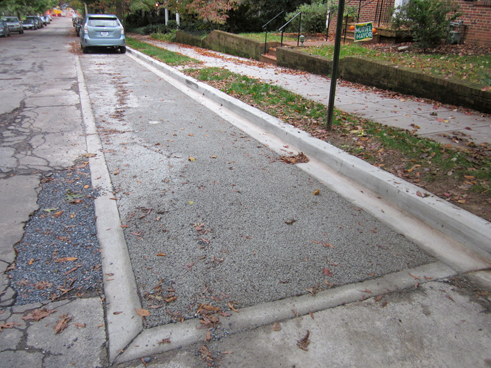 By Kelsey KnorpCurrent Correspondent
The latest phase of the D.C. Clean Rivers Project will require street sweeping in parts of Georgetown and Glover Park following the installation of "green infrastructure" to minimize harmful stormwater runoff into the Potomac River and Rock Creek.
Planners shared details for the latest iteration of the D.C. Water and Sewer Authority's $2.6 billion plan at a community meeting Oct. 7. The agency, also known as DC Water, evaluated several options for the federally mandated project and determined that the most cost-effective option would be to install pervious pavement on various streets to complement a long-planned system of sewage overflow tunnels.
Residents have generally been supportive of green infrastructure measures that have multiple environmental benefits, as opposed to costly and disruptive tunnels. But permeable streets in Georgetown will need more care than many residents are used to — sweeping is necessary to prevent growth of weeds from below and potential clogs from above, planners said — and this led some attendees to worry about parking impacts. "We're probably the only neighborhood where there's no street sweeping because there's no other place where we can park," resident Ann Goodman said.
Pervious pavement is designed to mimic natural groundcover, allowing runoff to soak through the pores of less granular asphalt to be absorbed into the ground, rather than run into the sewer system. New rain gardens on sidewalks and in "no parking" areas of the street will also increase bioretention.
"Basically, green infrastructure is a way of managing stormwater in an urban environment to try and replicate the hydrology that would have been in the area," planning coordinator Caitlin Feehan said.
The first pavement phase will be implemented in two irregularly shaped areas — one a swath of Glover Park and the other a section of Georgetown. The Glover Park area extends roughly from W Street NW north toward Fulton Street, roughly between 37th and 41st streets. The affected area of Georgetown is generally between R Street NW, the C&O Canal, and 31st and 37th streets NW.
Over the next few months, DC Water intends to bore into the ground at prospective permeable pavement sites around the neighborhoods to ensure that the soil there will absorb water, project representatives said at Monday's Georgetown advisory neighborhood commission meeting. The actual construction is slated to take place from 2017 to 2019.
Particularly in Georgetown, community members worried about permeable pavement affecting the character of the neighborhood's federally protected historic district. Advisory neighborhood commission chair Ron Lewis, who concurred with Goodman on the parking issue, also warned that some of the agency's plans could be rejected by the Old Georgetown Board and U.S. Commission of Fine Arts. "The brick sidewalks are an integral part of Old Georgetown, and there is nothing you can do to change that, so I hope you appreciate that," Lewis said.
Project manager Bethany Bezak said permeable brick is an option for sidewalks and alleyways, which sparked further discussion about whether such materials would be cohesive with the existing landscape. Feehan added that DC Water has been in talks with the D.C. Historic Preservation Office about identifying where historically cultural resources exist that the project should consider.
The latest concept for Clean Rivers follows a May agreement with the U.S. Environmental Protection Agency and U.S. Department of Justice, which accepted green infrastructure as a substitute for even larger tunnels that had been previously planned. DC Water is following a mandate to clean up the District's polluted waterways, into which sewage is routinely released during times of heavy rain.
Because about a third of the District still uses combined sewers for both stormwater and sewage, high volumes of stormwater can overwhelm the agency's treatment facilities, leading to the release of untreated water. A 1996 report from the water authority estimated that 6.5 billion gallons of untreated water, including 3 billion gallons of raw sewage, were flowing into the Potomac and Anacostia rivers and Rock Creek annually.
Where combined piping still exists, the agency will construct over 13 miles of new tunnels — the first of which is already under construction — to capture overflow generated during heavy rainfall and store it until it can be treated. Meanwhile, the permeable pavement and other green infrastructure measures are intended to limit the amount of stormwater entering the system.
Since 1996, DC Water has already reduced combined sewer overflows by 40 percent through other investments such as sewer separation at select sites, according to its reports. When all is said and done, the agency hopes to reduce sewer overflows throughout the District by 96 percent annually.
Another public meeting on the Clean Rivers Project will take place in early December, though details have not yet been finalized.
Lewis, the Georgetown neighborhood commission chair, said Monday that project planners must do their homework before tearing up the neighborhood's streets. "We have sort of put DC Water on notice that we expect a very, very thorough review of all alternatives, including the tunnel ... and they shouldn't assume they'll go forward without that review," he said.
Staff writer Brady Holt contributed to this report.
This article appears in the Nov. 4 issue of The Georgetown Current newspaper.