Agency Offers Revised Plan for Georgetown Streetcar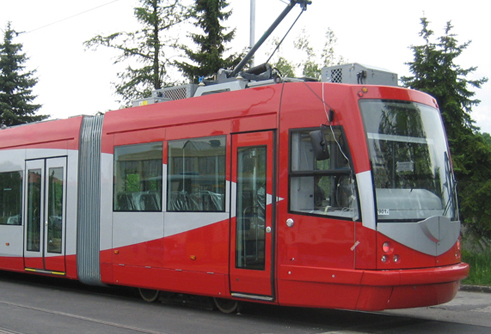 By Mark LiebermanCurrent Staff Writer
The District's first stretch of streetcar finally began running a few months ago along H Street NE, following years of delays spread over several mayoral administrations. Officials are now pressing forward with plans to extend that line to Georgetown, and released last week a revised proposal that relies on more dedicated lanes — as opposed to sharing space with other traffic — than past designs did.
Under the latest design, the new line would run 3.5 miles along the K Street corridor, from 3rd Street NE to just west of 34th Street NW, and the battery-powered streetcars would recharge using overhead wires located only under the Whitehurst Freeway and at stations. The goal of the streetcar line is to provide "improved reliability and enhanced mobility" to downtown travelers," according to the D.C. Department of Transportation.
The streetcar would travel under the Whitehurst Freeway and along K Street past Mount Vernon Square before turning onto New Jersey Avenue NW and then H Street, ultimately reaching Union Station. Under the latest design option, dedicated streetcar travel lanes would be in place for much of that route, aside from within Mount Vernon Square, where it would share the road with other vehicles.
Advantages to this alternative include faster service and more reliability, while disadvantages include technological limitations on how long the streetcars can operate without recharging, according to the Transportation Department. Will Handsfield, transportation director at the Georgetown Business Improvement District, said he prefers this alternative.
"It's the best way to get a predictable travel time between Georgetown and Union Station," Handsfield said. "We believe that having a short and predictable travel time will be incredibly valuable."
Alternatives that mix streetcars and Metrobuses in the same lane are feasible but would present more difficulties and potentially make the commute less pleasant, Handsfield said. Such alternatives would also require the streetcar to run for a longer stretch along an elevated wire that some observers have deemed ugly. Handsfield said his organization doesn't foresee aesthetic objections in the neighborhood because the neighborhood already has a "looming" structure — the Whitehurst Freeway. But he's happy to see the agency take into account concerns from stakeholders closer to downtown.
There are downsides to a hybrid approach that mixes wired and off-wire sections of the streetcar line, however; the Transportation Department warns that it could make costs potentially prohibitive and reduce reliability. Additionally, this design alternative lacks precedent in other major U.S. cities, increasing the risk of complications, according to the agency.
Dedicated lanes would take up the two existing center lanes on K Street NW, leaving the remaining lanes and parking availability intact. The stretch of K Street between 25th and 27th streets NW would have one fewer traffic lane in each direction, and the current plan calls for just one lane of general traffic in each direction in the stretch under Washington Circle.
Patrick Kennedy, chair of Advisory Neighborhood Commission 2A (Foggy Bottom, West End), told The Current he thinks the Union-to-Georgetown extension will justify the entire streetcar initiative and provide a valuable east-west transportation option downtown.
Of the available alternatives, Kennedy strongly favors the one with the largest percentage of dedicated streetcar lanes. His biggest concern going forward is the configuration of the route under Washington Circle. Given the numerous changes that have been made to improve traffic flow in that portion of Foggy Bottom, Kennedy worries that taking up two of the four lanes in that stretch of K Street under the circle could once again cause traffic headaches.
"I think it's potentially doable, and it certainly would provide a high quality of service for streetcar users. I want to make it work," he said. "But it's a little early to say whether it's feasible given the impact that it might have on traffic. I look forward to seeing what DDOT can put together with that."
He's more favorably disposed to the presented possibility of a proposed right-turn loop ramp for drivers who wish to turn left onto 27th Street from westbound K Street, to prevent drivers from intersecting the dedicated streetcar lane. And he also plans to keep his eye on the design of the spot at 24th and K streets NW, which falls within the Foggy Bottom Historic District and will be subject to scrutiny from neighbors.
Bill Starrels of Advisory Neighborhood Commission 2E (Georgetown, Burleith) told The Current he's excited about the streetcar in principle but hopes it proves more practical and efficient than the existing one on H Street. He also thinks reconfiguring the lane structure on K Street will prove a challenge, and that aesthetic considerations need to be at the forefront of future discussions.
"They need to have streetcars that don't require a lot of wires like they used to," Starrels said. "That's a deal-killer from a [Commission of] Fine Arts perspective."
The Transportation Department is currently in the midst of a federally mandated National Environmental Policy Act evaluation for the project. After initiating the process in July 2014, the agency began public outreach in the fall of that year and now is nearing the final stretch of the environmental assessment. A completed version of that assessment will be published and available for public comment early next year, the agency said. A final decision document is expected next summer, with another public meeting on the project tentatively set for this fall.
This article appears in the May 25 issue of The Georgetown Current newspaper.