Agency Hears Parking Ideas for Georgetown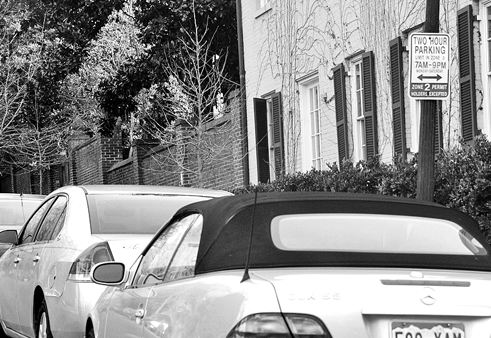 By Deirdre BannonCurrent Staff Writer
Georgetown and Burleith residents offered various suggestions for improving the area's parking situation last week, including "performance parking" in commercial areas, charges to visitor parking on residential streets, and a designated parking zone for neighborhood residents.
While opinions varied at the D.C. Department of Transportation meeting Wednesday, one sentiment rang clear: "Do no harm." Residents, for example, don't want to see changes that could benefit parking in commercial zones like Wisconsin Avenue or M Street unintentionally make parking more difficult on the streets where they live.
The Transportation Department convened the meeting as it seeks to address the parking shortages that have become a common complaint in the neighborhood. As it looks into new solutions, the agency is asking residents what works and what doesn't work for parking now. Officials stressed that the future programs don't have to be permanent, but can adapt to the neighborhood's needs.
"We are nimble when it comes to implementation," said the Transportation Department's Damon Harvey at the meeting. "If we make a change and it doesn't work, we will change things again to make sure our stakeholders are happy."
A working group made up of representatives from the Georgetown advisory neighborhood commission, the Georgetown Business Improvement District and the citizens associations of Burleith and Georgetown has been meeting with the Transportation Department for several months to discuss parking, and the groups joined to host Wednesday's meeting.
"Our objective is to make on-street parking better," said the Transportation Department's "parking czar" Angelo Rao, emphasizing that the agency isn't looking for a one-size-fits-all solution. "To satisfy this goal, we need you to be our partners and give us your feedback so we can provide the best service."
A number of business owners and residents embraced the concept of performance parking in commercial areas. The idea is to encourage turnover in places like M Street and Wisconsin Avenue by implementing variable parking rates, charging the highest prices when the spaces are most in demand. Proceeds from performance parking are directed back to the community — a popular advantage of this program. Similar systems are already in place in Columbia Heights and near Nationals Park.
"Turnover is an important issue for everyone in Georgetown — it propels the whole process," neighborhood commissioner Tom Birch said at the meeting. "Whatever happens in Georgetown, it must be a system that is fair and equitable."
Rao asked residents what they thought about charging visitors to park on residential streets, either through installing meters or a pay-by-cellphone system that would require installing new street signs. While a few said they were open to that idea, most opposed it.
"We need to dispel the myth that it's difficult to find parking in Georgetown," said Birch. "If you ask people to pay to park on residential streets, you will make that worse." Exacerbating Georgetown's reputation as a parking nightmare, Birch said, could result in contractors, friends of residents, and consumers choosing not to come to the neighborhood.
Some proposed restricting residential parking only to those who live in Georgetown and Burleith, rather than allowing anyone who lives in Ward 2 to park in the often-crowded areas. But others didn't like that idea, saying that for public transportation-starved neighborhoods like theirs, it's important to have options to park elsewhere in the ward, like near the Dupont Circle or Foggy Bottom Metro stations.
Other ideas that had some consensus included reducing the residential parking permit restrictions by one hour, from 10 p.m. to 9 p.m., which would make visitor parking easier for those attending dinner parties or other evening events.
Another popular idea — a plan for shared parking — would identify commercial parking lots or garages in the area that empty after business hours and could be used by visitors to local restaurants at night or to faith-based institutions on weekends.
Still, some residents made it known that they have no problems parking now, and they don't want anything to change. Instead, they want to see more enforcement of existing parking restrictions.
Representatives from the Transportation Department said the city's parking enforcement budget has shrunk in recent years, reducing the number of officers on the street. Residents suggested that the neighborhoods' citizens associations and business improvement district could raise funds for a parking enforcement officer exclusively for Georgetown.
Though debate was vigorous at the meeting, at its conclusion neighborhood commissioner Ron Lewis, who is also member of the parking working group, called the range of ideas "very useful."
"We're trying to do the best for the community," he said.
"This is a pilot, so it's a flexible, adaptable program — we don't have to feel like we're making a right decision or wrong decision when we make changes," added neighborhood commissioner Ed Solomon. "We can try something and see what works — and if doesn't work, we can always come back and change it."
Over the next three to four months the agency will synthesize the ideas from the meeting and come back to the community to discuss which proposals are feasible. For more information or to provide feedback, email angelo.rao@dc.gov.
This article appears in the Jan. 23 issue of The Georgetown Current newspaper.