Agency again floats new boathouses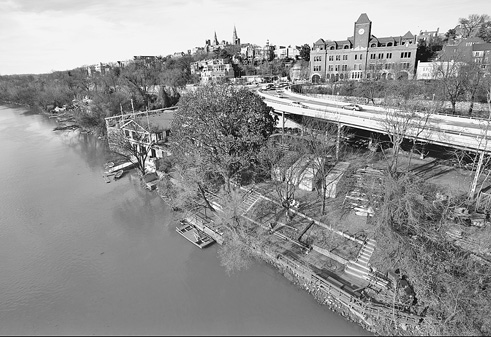 By Brady Holt Current Staff Writer
Long-dormant plans for new boathouses on the Georgetown waterfront will be reviewed once again next year, as the National Park Service evaluates the types and locations of facilities that could be built along a stretch of the Potomac River.
The step is an early one in any sort of development process, as a boathouse feasibility study could at best conclude that various entities can once again seek approval to actually build there. But it will be the first activity on the concept since a previous federal report — which focused on a particular boathouse proposal from Georgetown University — was shelved in 2008 pending a more detailed evaluation.
The university and the Park Service agreed in 1987 on a land swap in which the school would hand over unoccupied riverfront it owns about a mile upriver of Georgetown. In exchange, the school would have the rights to build a private boathouse for its rowing teams on Park Service land convenient to its campus.
But since then, preservationists and other park advocates have fought the university's proposed building, which they have said would overwhelm its location, damage the environment and block views. Both the university and the proposal's opponents applauded the Park Service's announcement last week that it will look at all options in roughly a third of a mile of shoreline immediately upriver of Georgetown Waterfront Park.
"We're certainly in favor of the idea of increasing non-motorized recreation on the Georgetown waterfront," said John Wheeler of the C & O Canal Association citizens group. "The proposed boathouse by Georgetown University was way too big. … At that location, from the towpath that would have blocked the view of the river."
The university's Scott Fleming said the school is just looking for a convenient home for its student rowers, who now face crowded conditions at the Thompson Boat Center a mile from campus.
"We have invested significantly in terms of studies and designs for a facility on the site proposed by the National Park Service," Fleming said. But even so, he added, "We remain open to an alternative site along the Georgetown waterfront [in the study area] as long as it enables us to meet our needs."
The broader "Non-Motorized Boathouse Zone Feasibility Study" will also evaluate possible sites for public boathouses and another private facility, for George Washington University. Both proposals have also been floated for decades, albeit in a less concrete form than the Georgetown University plan.
Beginning next month, the Park Service is scheduled to interview boaters and users of the Capital Crescent Trail and C&O Canal and Georgetown Waterfront parks.
The agency expects to hold public planning workshops in February to get further input before developing the feasibility study, which is due in late summer or early fall 2012.
Once complete, the study will "lay the groundwork for future decision-making," according to a Park Service release. But spokesperson Bill Line emphasized in an interview that any action is a long way off. "The study hasn't even been started yet, let alone completed," he said. "It could say great things, it could say don't [build boathouses], it could say it's a 50-50 percent wash."
Fleming said Georgetown University appreciates that activity about the boathouse concept has resumed after officials became "very frustrated" by so many years of delays. "We hope that this process will get us beyond where things have stagnated, and get to a place where we can address the needs of the university's rowing program," he said.
Sally Strain of the Defenders of Potomac River Parkland group said she's hopeful this latest study will identify possible boathouse locations outside of the C&O Canal Park itself, which overlaps with part of the study area. "This is really the way to do things: You start over and you consider all the alternatives," she said. "I have my fingers crossed."
This article appears in the Dec. 14 issue of The Georgetown Current newspaper.