Afternoon Delight: Swedish Waffles, Yogurt & Fresh Peaches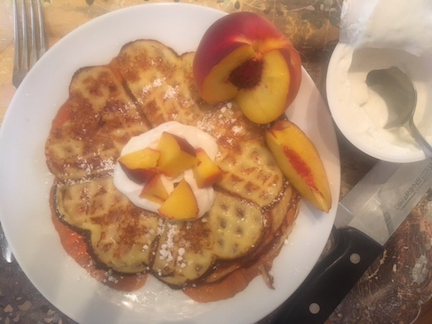 When I was growing up, my Swedish mother would make crepes for dinner when my father was away traveling. She'd indulge us (and herself) with some of her simple and delicious treats, one of which was crepes, topped with butter, confectioners' powdered sugar, whipping cream, and lingonberries (a berry similar to a cranberry but sweeter and smaller). Actually, it was more like a dessert for dinner! Those were the days...
Today, I use this recipe (published here a few weeks ago) using skim or 1% milk, and the crepe-thin, crispy, eggy waffles are topped with vanilla bean greek yogurt - or plain - and fresh fruit - whatever's in season. This spring, it was local Farmers Market strawberries. This time of year, sweet and juicy peaches. Yummy!
I've been treating my friends to waffle parties recently. Sometimes they're a treat for breakfast, sometimes lunch, and sometimes dessert, topped with gelato... They're loving it! So am I...