Adopt Force One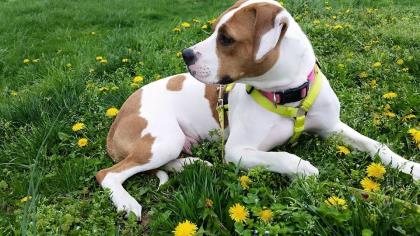 Meet your new furry family favorite and take them home without ever setting foot in a shelter!
Adopt Force One, the Washington Humane Society's mobile animal adoption vehicle, will be at a place near you with adoptable cats and dogs.
All available fluffy friends have been spayed/neutered, vaccinated, microchipped and are ready for their forever home.
Chase down AdoptForce One on Twitter: #AdoptForceOne
For more information about adopting a pet, visit Washington Humane Society.
A little about Missy, pictured above:
Hi I'm Missy! I'm a super sweet girl who may need a little time to adjust in my forever home. New and unfamiliar situations can make me a little nervous, but with reassurance and patience, I'll come out of my shell and be a happy, goofy, playful pup. I love going for walks. I'm just starting to get the hang of this cuddling thing, and I really love it. Once I'm pretty comfortable, I'll be the shadow you didn't know you had. I get along with other pups (I live with 2), and they help make me more comfortable. If you're interested in meeting me, email my foster family at pandamonium27@gmail.com.