Adolfo Dominguez daughter traces natural path to success
He's all right! Aren't you, cat? Poor cat! Poor slob! Poor slob without a name! The way I see it I haven't got the right to give him one. We don't belong to each other. We just took up one day by the river. I don't want to own anything until I find a place where me and things go together. I'm not sure where that is but I know what it is like. It's like Tiffany's.
-- Audrey Hepburn in Breakfast at Tiffany's (1961)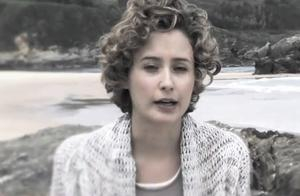 Holly Golightly, played by Audrey Hepburn in "Breakfast at Tiffany's," unforgettably pirouetted through her independent life in New York as a young woman trying to make it in the big city -- dreaming big dreams with heart and poignancy. Hepburn redefined style and the aspirations of a generation. There may never be another Hepburn or Holly Golightly, but there is a young woman who is once again redefining fashion and lifestyle -- not just for women her own age of 25, but for millions of women spanning the generations. Meet Tiziana Dominguez, the granddaughter of Adolfo Dominguez and daughter of his son of the same name. Tiziana is the creative director of their eponymous fashion house, on her way to running the company, and doing it with a style and attitude perhaps even more inspirational than that of Holly or Hepburn.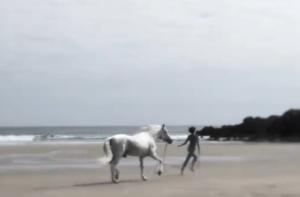 She breezes into the store at Wisconsin Place in Chevy Chase on a recent cool spring evening, leading an entourage of family members in Washington just in from Spain to visit the first franchised U.S. location.
"Natural is beautiful," says Dominguez, comfortably throwing one long leg over the other on the sofa of the Wisconsin Place store, her hair knotted casually into a relaxed bird's nest. She wears little if any makeup. She looks as though she might have just tidied up after an afternoon on horseback. "Aging naturally and getting wrinkles is beautiful," she says. It may be a theoretical notion when it comes to this young woman's beautiful face. But this is the Adolfo Dominguez ethos. The philosophy symbolizes a relaxed, elegant and aware attitude toward life and fashion that brings conscience into choices that have not always been associated with depth.
Tiziana, young and strong, embodies the ethos. Maintaining a relaxed demeanor in a highly stressful business while leading a global company that opens one new store every three days, she shows no sign of fatigue. In fact, the opposite. Adolfo now has 657 stores in 37 countries. And it's just beginning. Tiziana, like the company, is blossoming.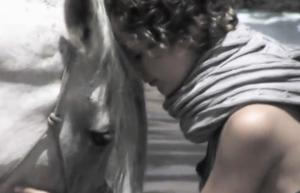 The young Dominguez tries to pin the credit on others. "We work with local partners who know their market," she said, "We're very selective."
A recent trip to India to open new stores pummeled Dominguez with ideas and eye-openers. "Just seeing the women in their saris sweeping the streets -- it was incredible," says the Middlebury-educated Spaniard who speaks at least four languages.
But Dominguez also draws heavy influence from America, where the company has entrusted its first franchise of many with Heather Previn, Julia Perez, Javier Vargas and Teresa Melchior. The foursome has held its own during the deep recession, and would like to grow. Dominguez takes inspiration from this spirit.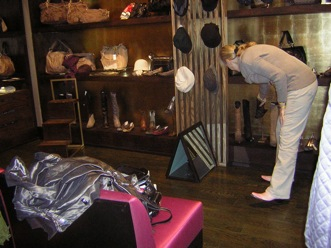 "I love America," she says. "There is a real belief in following your passion in this country. If you fail, it's okay. That's an invitation to try things. That's how to succeed."
Dominguez is a natural woman outside of fashion -- recharging herself with two horses she rides in the Western style first brought to America by the Spanish. American cowboys needed to work long hours in the saddle over rough terrain, sometimes needing to rope cattle with a lariat. Because of the necessity to control the horse with one hand and use a lariat with the other, western horses were trained to change direction with light touches and voice. Horses were also trained to exercise a certain degree of independence in using their natural instincts.
Dominguez seems to adopt that style of leadership to the rest of her life. "I was brought up in the business," she says. "From the earliest age I was hanging out with the seamstresses, my babysitters, who taught me how to sew. I just thought it was fun."
The business started in remote Galicia by her grandfather -- who died in a car accident -- was thrust upon Tiziana's father when he was 25. With one tiny store employing 20 seamstresses, the young Adolfo dug in and worked until everyone's fingers were tender, eventually giving the company its current name and beginning a nationwide expansion that would later go global.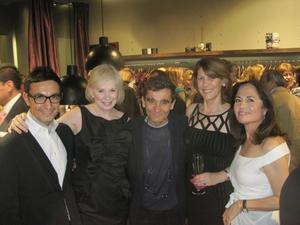 All the while, he studied writing, poetry and music. This closeness to artistic spirit infuses the clothes, the family, and a value system that sees humans as inhabitants of a much larger planet involving creatures great and small.
"We want to leave the planet a little better than we found it," says Dominguez in a touching video that is beautiful, even for non-Spanish speakers. "We take it day by day."
Just ask a member of the extended family, Washington owner Heather Previn, who left Bulgari with partner Julia Perez as the Great Recession began, opening the first Adolfo Dominguez franchise in the U.S. "Tizi has been such an integral part of this store and it's growth, taking a genuine and deep interest from day one," says Previn. "She and her sister are unspoiled and modest, but they know their own worth, which makes them so interesting in this day and age, where those attributes are generally missing and narcissism is rampant."
Could fashion itself be turning a corner?
With that gentle yet powerful spirit, just like Western-style riding, it's only a matter of time before Adolfo Dominguez, led by Tiziana, gallops softly yet unequivocally throughout the dramatic American tableau.
Adolfo Dominguez is located at Wisconsin Place, at Western and Wisconsin Aves. near Bloomingdales. (301) 576-3355.
Watch the video of Tizi here: