Additions to Mansion Spark Continued Battle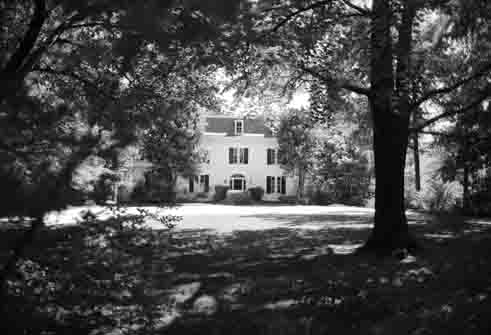 By Elizabeth WienerCurrent Staff Writer
The battle over Katharine Graham's former mansion is down to two combatants. But neither Mark Ein, prominent venture capitalist and owner of the Washington Kastles, nor Calvin Cafritz, the prolific local developer who lives next door, is backing down.
Ein and Cafritz, both accompanied by land-use attorneys and dueling architectural historians, appeared before the Old Georgetown Board last Thursday, where board members took no action but offered various suggested changes.
At the hearing, Ein presented revised plans for an addition and parking garage at the landmarked house at 2920 R St., built in 1864 and also known as the Beall-Washington house. The revisions — tucking the garage underground behind the house, and shrinking a planned eastern addition from three to two stories, with a mansard roof to mask its size — appeared to satisfy most neighbors, several of whom submitted letters of support. But not Cafritz, who lives in a twin house directly to the east.
Cafritz told the board he still objects to the alterations to "one of most iconic" homes in Georgetown. The large addition will give the house "a lopsided look," he said, and would be better placed on the south side.
Cafritz also had questions about the cumulative impact, if Ein also builds a pool and pool house on the property — "How large, where located, how it will affect trees that now form a magnificent grove?" He focused as well on the size of the garage and access by a narrow ramp wrapping around the house. "How many cars, is there a turn-around?" Cafritz asked, as opposed to forcing drivers to back up into the street.
Ein, however, emphasized the many compromises he made after consulting with neighbors and the board's staff. His original plan, for two detached garages in front of the historic house and a three-story addition, caused quite a stir when presented in July. But the scaled-down proposal won over most skeptics.
"It's a terrific solution — keeps it as a grand house, but also makes it a family house," said Victoria Rixey of the Citizens Association of Georgetown, a vigorous defender of the neighborhood's historic district.
Ein explained the rationale for the project. He and his wife, Sally, hope to have children someday, he said, and need to expand the 7,000-square-foot mansion to create a usable family home. "It will make it a house we can live in for decades," he said, promising to sign a covenant ensuring single-family use in perpetuity.
Board members, all local architects who had soundly rebuffed the original proposal, still had doubts.
"In a community where lots of people have to park on the street and walk a long way home, is there really need for a garage?" asked member Alan Brangman. He noted that a carriage house on the property could be converted to hold cars.
Ein's architect, Outerbridge Horsey, protested. "The carriage house is so far away. You don't want to walk down there in snow and rain."
Board chair Stephen Muse said he was "willing to entertain" the sunken garage idea, but also questioned the rationale. "The way it's always worked, you drive up a great graveled drive" in front of the house.
Board member Richard Williams also questioned the size and scale of the east addition. "I believe the family room could be done well as a garden element, distinct from the house, and not necessarily have a gym underneath it," he said.
Another contested point was the planned demolition of a 1914 kitchen addition designed by famed local architect Waddy Wood, which Ein would sacrifice in favor of the family room and bedrooms for his future offspring.
The D.C. Historic Preservation Office has opined that such demolition could be found acceptable under city preservation law, since the kitchen addition does not make up a "significant" portion of the entire historic house.
But, Muse said, "l'm personally opposed to total demolition of the kitchen. It's an important historic element, and there are ways to keep at least the front."
Here, both Ein and his architect protested. "We're trying to take your feedback. Bur from our point of view, this has to work," said the homeowner. "This was a staff kitchen. To make it work, we'd have to widen it."
"It's a service kitchen, not part of a family house," Horsey said.
In the end, the board took no action on the revised proposal but asked Ein and his team to come back after reflecting on its suggestions.
"I'm not sure this is something we win and you lose. We're trying to make it better," Muse said. "I know you wanted concept approval today. We're not gonna give it. Come back next month."
This article appears in the Sept. 10 issue of The Georgetown Current newspaper.