'42'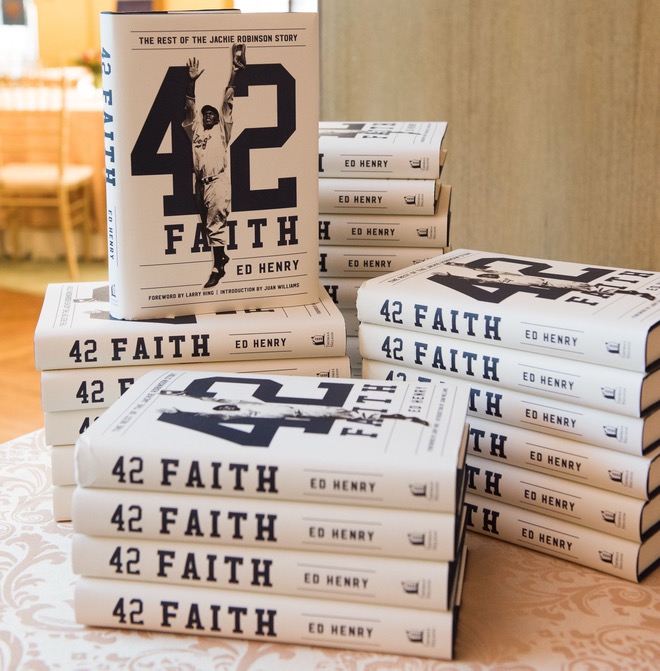 On this day in history – April 15th, 1947 – Jackie Robinson became the first African-American player in Major League Baseball breaking the color barrier. Exactly 50 years later – April 15, 1997 – Robinson's groundbreaking career was honored and his uniform number "42" was retired from Major League Baseball by Commissioner Bud Selig in a ceremony attended by over 50,000 fans at New York City's Shea Stadium. Robinson's was the first-ever number retired by all teams in the league.
"I swear this book is about Jack Robinson and the Brooklyn Dodgers," said author Ed Henry, "but it's also something deeper. It stirs a passion in people who love the Brooklyn Dodgers for example. I got a letter a couple of days ago from someone who said he remembered me in an Ebbets Field quote, 'My dad treated me to my first to vanilla ice cream and orange sherbet in a wax paper cup with a wooden spoon. My life changed that day.' I wanted to share something deeper with this book, something about faith and how I believe it was nothing short of divine intervention when Branch Rickey, the general manager of the Dodgers, decided to sign Jackie Robinson for his first contract and it broke the color barrier and opened all kinds of things in America."
"I told President Obama, when he was still in office, I was working on the book and I was about to go interview Rachel Robinson, who's still alive, Jackie's widow. And he said 'I want you to tell her something for me.' And I was surprised because Presidents don't usually send messages through other people. He says, 'I want you to tell her that I believe that there is a straight line from what Jackie did in 1947 to me being here in the White House.' And that really was very profound to me," Henry added.