41-Foot-Tall Sculpture Eyed for Georgetown Waterfront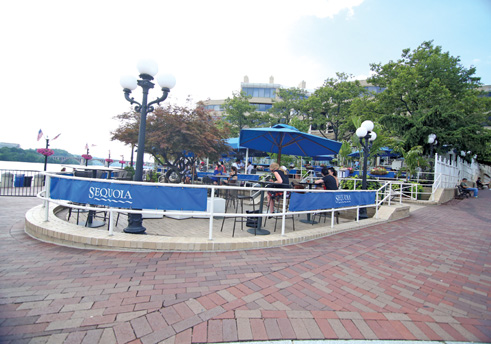 By Brady HoltCurrent Staff Writer
Whenever the New York-based Ark Restaurants firm significantly renovates one of its eateries, its CEO Mark Weinstein ensures that the new design is inspired by modern art. Due up next is one of the company's two D.C. restaurants — Sequoia, in Georgetown's Washington Harbour complex, 3000 K St. NW.
"As opposed to having a restaurant and just putting a painting on a wall, we really now look at it the other way: Here's the art; we're going to build a restaurant around it," Weinstein said in an interview. "Sequoia gave us an opportunity, because of the outdoor space, to find a significant piece to put outside."
Specifically, Weinstein plans a colorful, 41-foot-tall, abstract sculpture by prominent Belgian conceptual artist Arne Quinze, which would dominate the restaurant's riverfront outdoor seating.
But Sequoia falls within the federally protected Georgetown Historic District, which subjects even the slightest outdoor changes to rigorous federal review. The Old Georgetown Board, part of the U.S. Commission of Fine Arts, will consider the plans tomorrow after offering some preliminary feedback last month. Meanwhile, Advisory Neighborhood Commission 2E (Georgetown, Burleith) and some nearby residents have voiced strong objections.
"It was too bold, too big — it made no sense for the area," ANC 2E member Bill Starrels said in an interview. "It's too large in every respect of the word, and the waterfront area there is more or less a gateway from Georgetown to the Potomac — it would also be visible from the Kennedy Center's vista toward Georgetown."
The Old Georgetown Board reviewed a concept last month in which the same sculpture was even taller — 45 feet — before the restaurant shaved 10 percent off the proposed height. Tom Luebke, secretary of the Fine Arts Commission, said board members at the time had been mainly concerned about the height and also asked about changes to the colors.
"It's sort of a very expressive sort of design with lots of little pieces on it, lots of little colors," said Luebke. "The concern is literally the impact of this — the combination of the height and the character."
Luebke added that riverside sculptures have come up in the past, albeit at perhaps half this proposed height, and noted that the Washington Harbour and nearby buildings are modern replacements for Georgetown's historically industrial waterfront. "It's not the immediate context of where there's a lot of contributing historic stuff," he said. "The biggest impact is on the Potomac waterfront generally: What will it look like when seen from a distance? What does it look like in the whole context of the historic district?"
Weinstein told The Current that Thursday's presentation to the board will also include a model that shows the sculpture in the Washington Harbour setting, to help members visualize the project. His impression of last month's meeting was that at least one board member was excited about the project, and he praised the board for focusing on height and location rather than trying to be art critics.
"I sort of discount anybody's eye with relation to art," he said. "They were smart enough to know this is an internationally acclaimed artist ... and to give an opinion on the artwork itself was not appropriate."
ANC 2E member Starrels acknowledged Weinstein's service as a patron of the arts. "It's very well-intentioned, but it just didn't fit the area," he said of the proposed sculpture. "It would have to be completely different."
Nearby resident Stephen Crimmins expressed even stronger objections, telling The Current that he suspected a hoax the first time someone told him about a planned 41-foot-sculpture.
"I was worried, but thought it couldn't possibly be for real," he wrote in an email. "How about a four-story apple on the roof of the Apple Store on Wisconsin Avenue? A rotating dollar-sign on the top of PNC's gold dome? As long as they're 'artistic' enough, the sky's the limit."
Weinstein said Ark Restaurants' artwork has a history of successfully enlivening its spaces. "What is proposed, I think, is spectacular — I think it will become a focal point in every positive way in making Washington Harbour a more interesting place to visit," he said.
The planned sculpture would be part of a large-scale reconfiguration of Sequoia's indoor and outdoor areas, which would close from January until sometime in April to accommodate the renovation, Weinstein said.
The exterior work — simplifying the seating area and adding new landscaping, among other changes — also requires Old Georgetown Board review but is less dramatic and has faced little resistance. This aspect, too, is being designed by Quinze, in collaboration with an architect: "The idea is this whole outdoor space, which is some 500 seats, that will really be reflective of his sculpture and his sensibility," Weinstein said.
Meanwhile, the restaurant's interior — which does not require public review — would be inspired both by the outdoor sculpture and by work from two other modern artists that would be installed inside.
This article appears in the July 6 issue of The Georgetown Current newspaper.