37th and Tunlaw Work to Kick Off Soon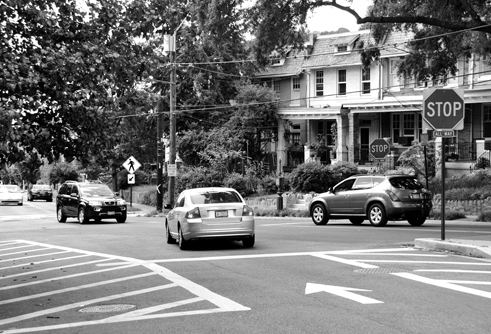 By Deirdre BannonCurrent Staff Writer
Construction to reconfigure the problematic 37th Street and Tunlaw Road intersection is expected to start by March 28, likely generating short-term traffic problems on the way to its long-term goal of increased safety and traffic calming.
Calls for changes to the distinctive X-shaped intersection intensified recently when drivers avoiding Wisconsin Avenue increasingly cut through Glover Park's north-south side streets. The D.C. Department of Transportation's redesign aims to improve vehicular and pedestrian safety by slowing traffic at the intersection.
Construction work will take about four weeks, and during two, northbound traffic on 37th Street will be diverted to Wisconsin Avenue at Whitehaven Parkway, Paul Hoffman of the Transportation Department said at last week's Glover Park-Cathedral Heights advisory neighborhood commission meeting.
The D1 and D2 bus routes will also be impacted, and signs directing riders to temporary bus stops will be posted at 37th Street stops ahead of the change.
"There will be long delays coming up 37th Street while the work is happening," Hoffman told attendees at Thursday's commission meeting. "We'll watch it and will provide [traffic control officers] to help with traffic during construction."
While a firm start date is not yet confirmed, Hoffman said his department would notify the public and other government agencies at least a week in advance of any construction, and would do the same for any traffic detours. Changeable message signs will be installed near the intersection to keep drivers updated.
Hoffman noted the team would try to begin construction work as early as possible in the day, perhaps by 8 a.m., in order to complete the project more quickly.
The intersection has been a longtime safety problem for drivers and pedestrians in Glover Park. Spillover traffic from the Wisconsin Avenue streetscape project only exacerbated congestion at 37th and Tunlaw as drivers cut through the neighborhood to avoid construction delays on the commercial corridor. Complaints from residents and a push from advisory neighborhood commissioners prompted the Transportation Department to commit in August to reconfiguring the intersection.
The redesign will create two new intersections instead of one, forming an elongated K-shape in an effort to improve the problematic crisscross. Two concrete islands will be removed, while four new stop signs and two extended curb lines along the east side of Tunlaw will be installed to slow traffic as it enters the intersection.
The roads will then be resurfaced and new high-visibility crosswalks will be added, along with two left-turn-only lanes on Tunlaw and 37th.
The Wisconsin Avenue project separately made news earlier this month when two D.C. Council members, Ward 2's Jack Evans and Ward 3's Mary Cheh, attended the Georgetown advisory neighborhood commission meeting to discuss complaints about traffic headaches that arose from the new lane configuration on Wisconsin, particularly northbound from R Street to the Washington National Cathedral. The redesigned lanes were intended to calm traffic and make the corridor safer for pedestrians, but planners did not anticipate such congestion.
"Wisconsin Avenue is not performing like we thought it would," said Hoffman. "It's taking two minutes longer to travel northbound than we anticipated. We understand it's a problem, and we're working to fix it."
Glover Park commissioner Jackie Blumenthal, who also attended the Georgetown meeting, said that for the most part, Glover Park residents aren't the ones complaining. People who live to the north and south — in Georgetown in particular — have raised the most objections, she said.
"We're willing to wait until after the intersection at 37th and Tunlaw is finished to see how it turns out," Blumenthal said. "DDOT has been responsive to our concerns and is fixing things that can be fixed, and I'm hopeful the traffic issues will be ironed out with safety as the priority."
Blumenthal also said her neighborhood commission brings to Hoffman's attention every complaint or concern it hears from residents.
While northbound traffic on Wisconsin has been a problem, southbound travel has not.
"I hope the reason southbound traffic is not a problem is not because people are instead cutting through on 37th and Tunlaw," said J.P. Montalvan, who co-founded the neighborhood group "Glover Park Residents for Pedestrian Safety" soon after the spillover traffic increased last summer.
By slowing traffic, the redesign of the 37th and Tunlaw intersection is intended to influence shortcut-seekers to stay on Wisconsin Avenue instead. If the Wisconsin lanes are reconfigured again to ease northbound congestion, stakeholders want to make sure the southbound lanes don't feel the impact and push more drivers onto the residential streets.
Commissioner Brian Cohen suggested that the Transportation Department consider changing rush-hour parking restrictions on Wisconsin to free up an extra travel lane.
"The peak traffic hours and restricted parking hours date from 20 to 30 years ago," Cohen said at the meeting. "Now we have schools getting out at 3:15 or 4 p.m., and they create their own unique traffic challenges."
Cheh, who chairs the council committee with oversight of the Transportation Department, will host a public roundtable discussion on the Wisconsin Avenue project May 1 at the John A. Wilson Building.
The 37th and Tunlaw intersection project is one of the last elements of the Wisconsin Avenue streetscape project, which started last spring and which Hoffman says is now 86 percent complete. Besides that intersection and the traffic tweaks needed for northbound Wisconsin, the remaining work includes replacing streetlight bulbs that proved too bright, fine-tuning the timing of traffic signals and improving pedestrian features.
This article appears in the March 20 issue of The Georgetown Current newspaper.