190 Films Shown During Environmental Film Festival in the Nation's Capital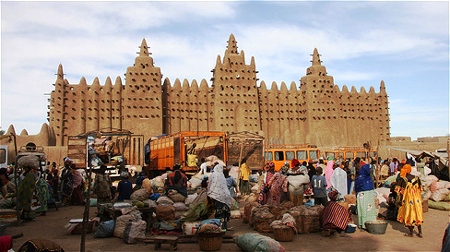 The Future of Mud: A Tale of Houses and Lives in Djenne is a documentary about a mason in Djenné, Komusa Tenapo that examines an African tradition of mud architecture in Mali. It's being shown March 21 at 5:30 pm in Georgetown at Dumbarton Oaks.
This is one of 190 diverse and arresting films from 50 countries being shown around town during the Environental Film Fesitval in the Nation's Capital from March 12-24, 2013.
This year's Festival features 110 Washington, D.C., United States and world premieres; 196 filmmakers and environmentalists will be present to enliven our screenings with their perspectives and knowledge.
Featured among the Festival's opening night films will be the world premiere of Hot Water, exposing the toxic effects of uranium mining in the American West with Dennis Kucinich, who is featured in the film, and filmmakers Elizabeth Kucinich and Lizabeth Rogers. The Washington, D.C. premiere of acclaimed director Terrence Malick's latest film, To the Wonder, an exploration of love set against the majesty of nature, is a Festival highlight, along with Canadian filmmaker and environmental activist Rob Stewart's new film, Revolution, empowering youth to save the natural world and humanity itself!
For a full schedule of films and venues, contact the Environmental Film Fesitval in the Nationa's Capital.