10th Anniversary DC Jazz Festival June 24-29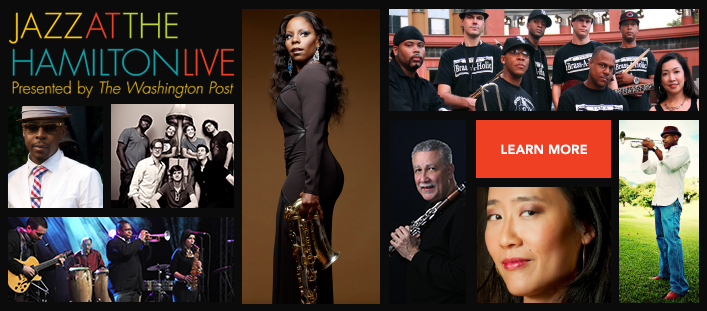 The DC Jazz Festival (DCJF) is celebrating its landmark 10th anniversary June 24 – 29, 2014. With more than 125 performances in over 60 venues throughout Washington, D.C., it is one of the largest music festivals in the country. As the fastest growing jazz festival in the U.S., the DCJF celebrates America's unique art form during this national event that draws jazz lovers from around the world to the nation's capital.
2014 festival highlights include:
Jazz at The Hamilton Live (June 24-29), co-presented by The Washington Post, features six nights of exciting, eclectic performances. Performers include acclaimed artists such as Snarky Puppy, Roy Hargrove, The Brass-A-Holics, Irma Thomas and The Dizzy Gillespie Afro-Cuban Experience, among others.
DC Jazz Festival and Events DC Present: Jazz at the Riverfront (June 27-29), is an exclusive three-day blowout where fans can enjoy jazz at the beautiful urban, green, innovative Capitol Riverfront overlooking the Anacostia River; wine and beer tastings; chef demonstrations; and a marketplace. The event features jazz greats including Gregory Porter, Trombone Shorty, Yasiin Bey (aka Mos Def) with very special guests, vocalist Akua Allrich and harmonica virtuoso Frédéric Yonnet.
Jazz in the 'Hoods presented by Events DC (June 24-29) features more than 45 clubs, restaurants, museums and hotels all around the city. This includes the CapitalBop D.C. Jazz Loft Series featuring innovative, boundary-breaking artists like Orrin Evans, and the East River Jazz Series. Performances will also be held at Bohemian Caverns, Twins Jazz and Renaissance Hotels, as well as Lowes Madison Hotel featuring Sharón Clark, and Sixth and I Historic Synagogue featuring Cyrus Chestnut.
Jazz 'n Families Fun Days (Prelude Event, June 7-8), in partnership with the Phillips Collection, returns again to celebrate the synergy between jazz and the visual arts with performances in the Phillips Collection's music room and auditorium by more than a dozen regional artists and youth ensembles. The two-day free event will feature storytelling and an instrument petting zoo.
For more information visit www.dcjazzfest.org.