At 100 Days, Bowser Wows The Economic Club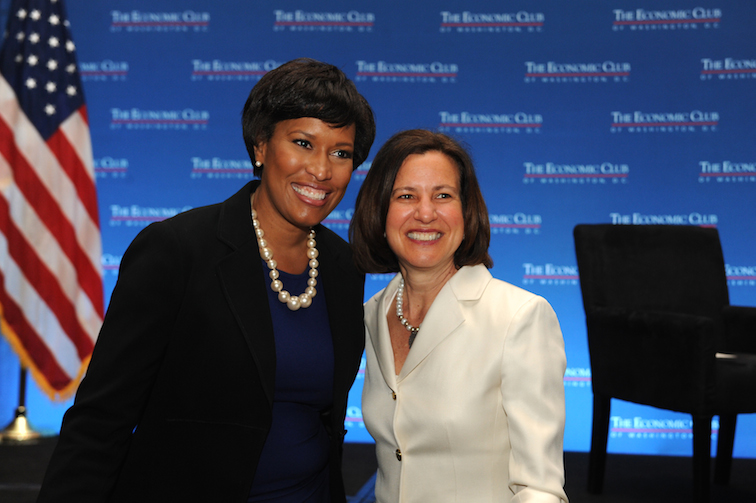 Wearing beaming pearls and a flashing smile set off by a smart black suit, D.C. Mayor Muriel Bowser took her "fresh start" persona and proposed budget to The Economic Club of Washington, D.C. addressing several hundred business, government and philanthropic heavyweights as well as the media in the packed Atrium at the Ronald Reagan Building and International Trade Center as she approaches the 100-day mark in her nascent administration.
The crowd started building an hour before the Mayor arrived. Even hard-to-impress Akin Gump litigator and Greater Washington Board of Trade Chairman Tony Pierce noticed buzz in the air. "The Mayor really brings them out," he said, eyeing attorneys and business leaders from across the region. The Club's president David Rubenstein, billionaire CEO and co-founder of The Carlyle Group, hosted a 30-minute Q&A with the mayor.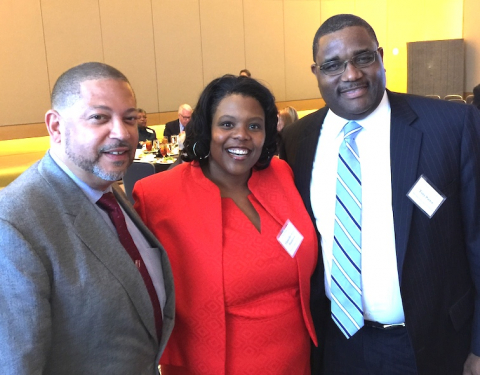 Bowser said her budget is modest – only an increase of three percent – which is a lesser jump than in past years. Her proposed sales tax increase to six percent (from 5.75) is a small price to pay, she said, for the jobs and housing her plan will deliver.
Ward 8 Council candidate Eugene Kinlow, who disagrees with raising the sales tax – which will hurt low-income residents like those East of the Anacostia River hardest – worked the room, while Ward 2 Councilmember and Finance Committee Chair Jack Evans looked on, saving comments for later. D.C. Chief Financial Officer Jeffrey DeWitt, former CFO Nat Gandhi, as well as former City Administrator and GSA Administrator Dan Tangherlini and public schools Chancellor Kaya Henderson listened closely to the speech and the generally warm reception the Mayor received.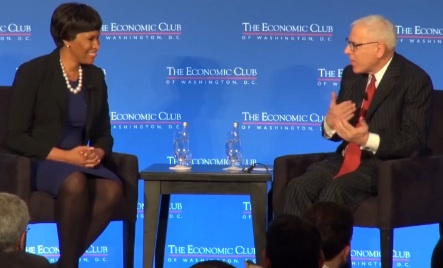 Rubenstein asked Bowser whether being Mayor was as good as she expected it to be. It's "pretty great," she said. As Rubenstein grilled her about parking tickets, red light cameras and potholes, he speculated that she probably doesn't have much opportunity to do ordinary things like shopping without getting grilled about … parking tickets, red light cameras and potholes.
Bowser said she still goes to "the grocery" and popped into Macy's the other day to shop. "No one does that for me," she said, allowing that satisfying a sudden Ben & Jerry's fix could sometimes be more complicated now that she's mayor.
"One thing I've challenged my team to look at is [traffic] light synchronization," Bowser said, drawing applause. "We need to get people through the city faster."
"Yeah, every time I go, I'm always getting a red light," Rubenstein said. "It would be great if you could do that."